• Mock exams start Friday 26th January for Leaving Cert and Tuesday 30th January for Junior Cert. Fees can be paid online or by Cheques/Postal Orders (no cash) to the school office. Leaving Cert fees€90 / Junior Cert fees €95.
News update, Jan 12th, 2018
• We are very proud of all the students who got through to the finals of the BT Young Scientist Competition in the RDS this week. The girls, along with their teachers have worked extremely hard in preparation for the competition. We would like to wish Ailís Odell, Adriana Armstrong, Ella Cooper, Emma Finnegan, Delia Istoc, Anna Moroz, Niamh Richardson, Sadhbh Culleton, Ella May, Chloe Johnson, Tara Kelly, Mizna Shahid and Jennifer Bura  all the very best of luck with their projects.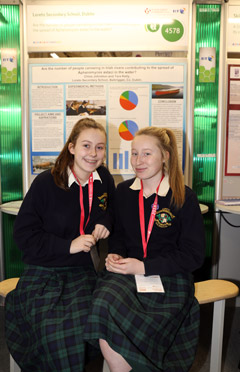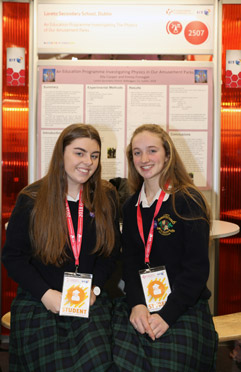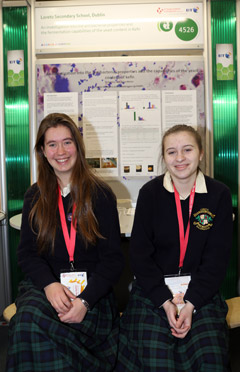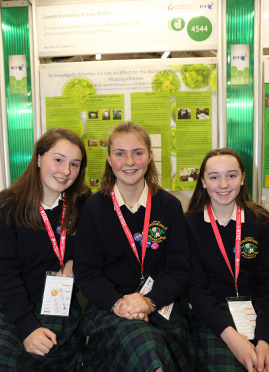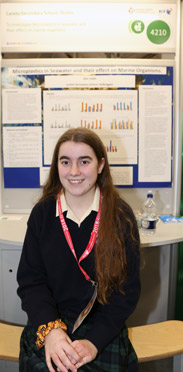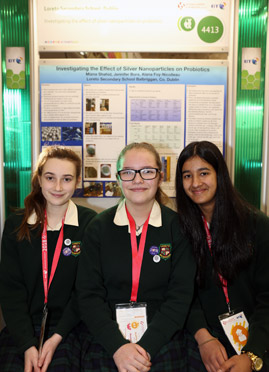 All the first Years and 50 fourth years travelled to the RDS to give our competitors plenty of support and a great day was had by all.
• The 4th Years have been very busy this week, preparing to go out on work experience from Monday 22nd January to Friday 9th February. All students attended an assembly on Thursday, where they received their work experience journal.
• Thursday and Friday of this week TY students had the opportunity to attend a photography workshop given by professional photographer Tim Durham.
• Monday 15th all students will attend the TY Assembly Showcase of their work from Module 2 in the Hall.
• Friday 19th DATS tests for all TY students will take place from 9.10-1.20pm. It is very important that all students attend.
• Congratulations to the Senior Gaelic team who successfully beat Dunshaughlin 3:5 to 2:4 and are now through to the Semi Final of the Leinster Championship.
• The Senior B hockey team beat Castleknock 3-1 and the First Year hockey team beat Castleknock  2-0 in the North Dublin League. Unfortunately the Junior Hockey team lost against Lucan. Well done to players for their continuing commitment.
• Reminder from the Parent's Association the Library will be open Saturday 13th, 10.00 a.m. - 5.00 p.m. and Monday 15th, 9.10 a.m. - 9.30 a.m. and 5.00 p.m. - 8.00 p.m. to facilitate the clothing recycling drive in aid of the school. Please donate all your clean unwanted clothes, bed linen, towels, curtains, shoes, belts and bags. All items are to be placed in black plastic sacks. Unfortunately we cannot accept mobile phones, dirty or wet clothing, laptops, mats, duvets, pillows, carpets or books. Collection of items will be on Tuesday 16th @ 11.00am. Thank you for your continuing support.
Termination of rear access to school campus.
Letter for parents re. above

Parent Mailing List
We are currently compiling a mailing list for parents/guardians of students from 1st, 2nd and 3rd Year through which we can relay information about ongoing activities and events in your daughters year group. Your daughter should have brought home the form linked to below. If it was mislaid, and should you wish to be on this mailing list, please complete the form and have your daughter return it to her form teacher or the school office.