News update, Jan 14th, 2017
• Welcome back and a happy new year to the whole school community; students, staff, parents and all connected with Loreto Balbriggan We look forward to an interesting and fruitful year ahead.
• Food for Thought – On Wednesday next the 'Food for Thought' exhibition will be held in the school, starting at 7.30. Don't miss what promises to be a very interesting and informative evening. Click here for more details. (Full article link)
• Well done to all our BT Young Scientists on their participation in this year's exhibition. They travelled on Wednesday, Thursday and Friday to the Exhibition in the RDS with a fascinating selection of studies. The school's involvement in BTYSE was the subject of an interesting feature on RTE's Nationwide on Wednesday, 11th January.
Also, Emma O'Kelly from RTE Six One news visited the school on Tuesday, 11th November to speak about the school's focus on STEM education. She visited the labs and spoke to students involved in BTYSE past and present. The report was broadcast on the Six One News on Wednesday, January 11th.
Special congratulations to our prize winners this year;-
Health Research Board Award: First place, Biological and Ecological - Intermediate: Sophie Weldon, Laura Weldon, Emma Kleiser Byrne; Does consuming certain varieties of potatoes as a staple food in a diet increase blood glucose levels & the chance of high blood pressure and diabetes in a sample of Rush residents.
Second place, Biological and Ecological - Senior group: Chloe Tap & Dagmara Dobkowska; To investigate whether contrast sensitivity can be improved from regular exposure to action video games and the impact on everyday tasks on a teenager with myopia.
Perrigo Biological and Ecological Educator of Excellence: Ms. Niamh McNally.
In addition stong performances were put in by ;-
Aisling Leneghan and Frances Mulholland; An investigation into the effect of swimmers' sunscreen on Talitrus saltator.
Anna Sowray, Kelsey Wilson & Savannah-Rose McAuley; A statistical analysis of the short term effects of the HPV vaccine.
Kate O'Kelly; To investigate the effects of health and lifestyles games on the behaviour of students.
Kirsty Burns, Enya Anderson & Cleo Gallen; Investigating the behaviour of seagulls in our area.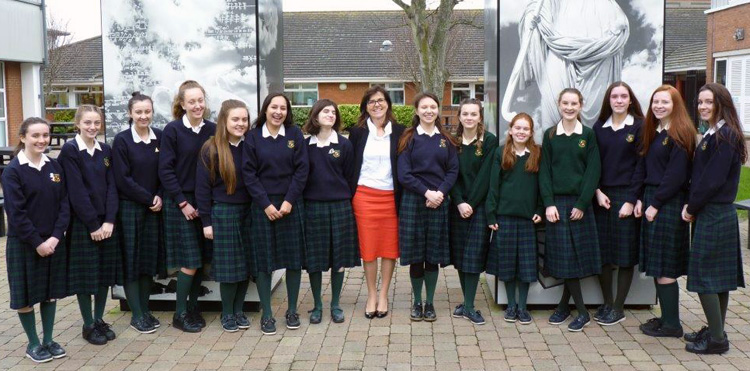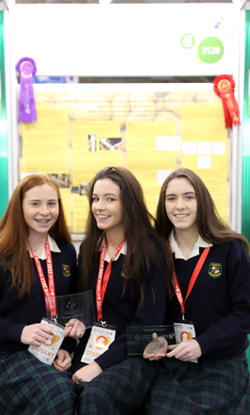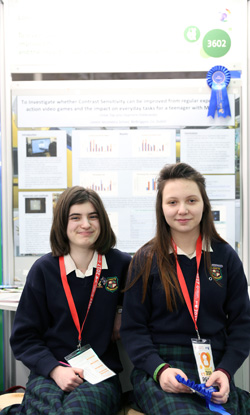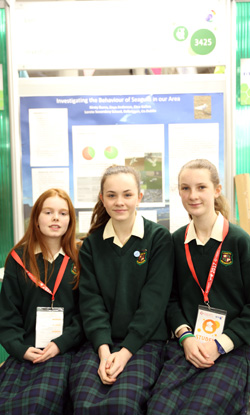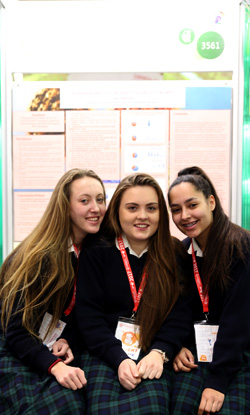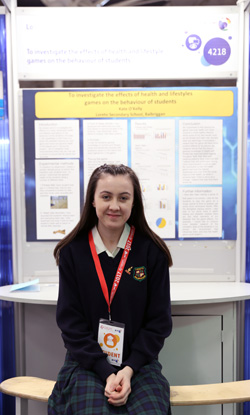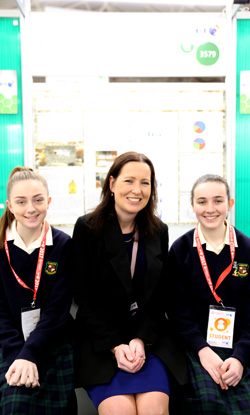 • Junk Kouture is an exciting and prestigious national competition where students use their creativity to turn junk into high fashion. The school is hoping to build on our tradition of great success in the competition with this year's entry of thirty seven wonderful fashion creations. Monday, 16th & Tuesday, 17th January are the nights of this year's school performance. Doors open at 7 p.m., show starts at 7.30 p.m. and tickets are available at the door.
• Hard luck to our Senior Camogie team who lost their East Leinster quarter final after a very tight game against Castleknock Community College. Well done to all the girls on a great achievement to get this far. Best of luck to our Junior Camogie team in their upcoming semi-final against Loreto Crumlin.
• A big congratulations to Emma Fagan, 2E, who represented Loreto Balbriggan in Leinster schools swim gala on Sunday, January 8th. She won the 100 meter back stroke for U.13-14 girls and will go forward to represent the school in the 'Interpro Irish National Swim Gala".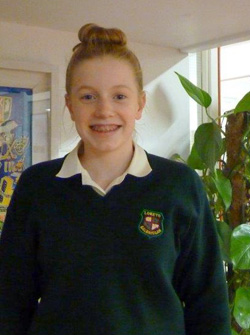 • Please note the change in the school calendar. The school will now be closed on Thursday, March 16th.
Food For Thought
 'Food, glorious food' – it fuels the body and feeds the mind. On Wednesday 18th January 2017, when post-yuletide belts tighten to feel the less glorious effects of Christmas pudding past, Loreto Secondary School Balbriggan will play host to a very special evening that promises to take a more measured and informed approach to young people's nutrition and to the nation's health.
 'Food for Thought' is a gathering of great minds to discuss and demonstrate what healthy eating is and what it should be all about. Professor Donal O'Shea, the country's leading expert on obesity, is the keynote speaker for the evening but joining him is a whole host of other well-known experts in the field. Dr Kevina Cardiff, a dietitian specialising in diabetes, cardiovascular problems and weight management will speak about some of the hard to shake myths surrounding sugar. Cathy Monaghan, Senior Paediatric Dietitian and founder of www.weaning.ie, Dr. Lyndsey McTavish Lynam, specialist in childhood dental care, and Nicola O'Byrne, leading lactation specialist, will also be on the panel to contribute to the lively debate on the night.  
Of course, no discussion about healthy eating could ever be contemplated without the inclusion of some wholesome treats on the evening menu and the talks will be closely followed by a cookery demonstration offering practical ideas and suggestions for parents on family dinners and lunchbox nutrition. Sharon Hearne Smith, a well-known food stylist who has appeared on RTE's' Today Show with Maura and Dáithi' will be in attendance and local and national food suppliers will also have stalls to tempt with culinary delights. 
 All members of the community are welcome to attend this unique event. Tickets are €5 and can be purchased from Loreto Balbriggan Parents' Association or from calling 086 0438321 from the 9th January 2017. As well as a feast of evening entertainment for your new year, 'Food For Thought' will demonstrate that healthy eating is not just for January but for life.