News update, Feb 24th, 2018
• Táimid go léir an-bhródúil as an bhfoireann  díospóreachta a ghlac páirt i gcraobh Laighin inné i bhFóras na Gaeilge.  We are all very proud of our Irish debating team who took part in the Leinster Final on Thursday in Fóras na Gaeilge. The girls were praised by all the judges for their very high standard of debating and caighdeán ard Gaeilige.  The girls were narrowly beaten by Sandford Park School. Maith sibh a chailíní. (Pic below)
• Huge congratulations to the Elite Dance Group who won "Best Dance Group" at the School Stars Show judged by Louis Walsh in the TLT Drogheda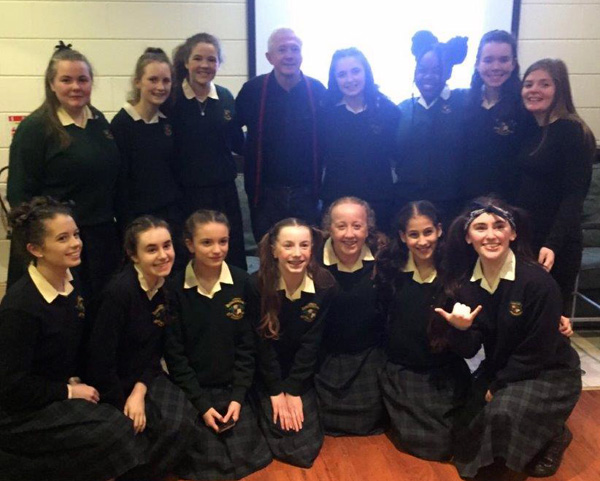 • As a result of their meeting  at the BT Young Scientist and Technology Exhibition, entrants Ella Cooper, Emma Finnegen, Ella May and Niamh Richardson were invited by TD Darragh O'Brien to a tour of Leinster House last Wednesday.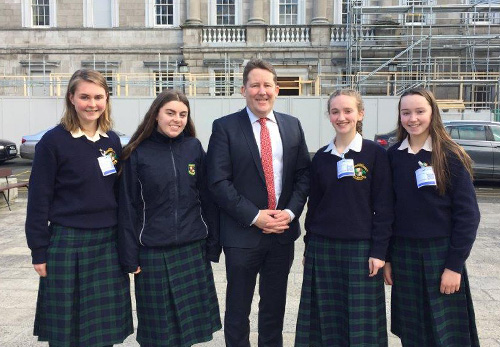 • The TYs returned to school this week after three weeks work experience. The experience enabled the girls to develop new skills, grow in maturity and has given them a taste of the working world. They received glowing reports from their employers and the school would like to express our thanks and appreciation to the employers in the local and wider community for facilitating all the girls.
• Seven TY students are assisting the charity Third Age with its' Digital Skills Programme this week in Balbriggan Library. The programme aims to provide people in the local community who have never used the Internet with the confidence, motivation and skills to reap the benefits of participating in today's digital world. We wish all participants well, over the next five weeks.
• The 4E form class took part in a 'Fashion Focus' workshop on Wednesday morning facilitated by Eco-UNESCO. They engaged in activities which discussed and challenged their ideas on fashion, the 'fashion life cycle' and the environmental impact of the textile industry. They finished off the workshop by learning some upcycling skills. The students made some throw bags from old t-shirts and also created some other new fashion items from old shirts and t-shirts they had in their wardrobe.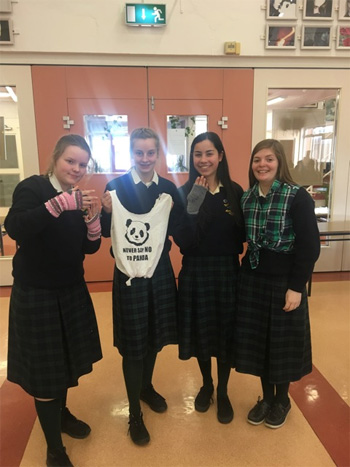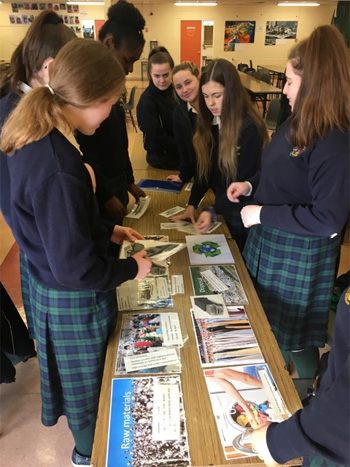 • 4A  attended a workshop given by Mr. Gerard O'Shea of Develop Me. This workshop enabled the class to develop the skills of problem solving, planning and communication while working together as a team. It provided to be a very enjoyable and educational whole class activity.
• The JPIC group attended a presentation and workshop on homelessness today. Mary Kilgarriff from the Dublin Central Mission in Abbey St. , Dublin , gave the group an inspiring insight into the life of rough sleepers , the limitations of services available  and the causes of homelessness. The group also packed toiletry bags for homeless girls and women and presented the charity with 200 euro they had raised and supplies of sanitary ware that they had collected over the past weeks. The workshop was hugely informative and motivating and it has inspired the students to maintain links with the homeless charity and continue to work towards understanding & changing the homeless crisis.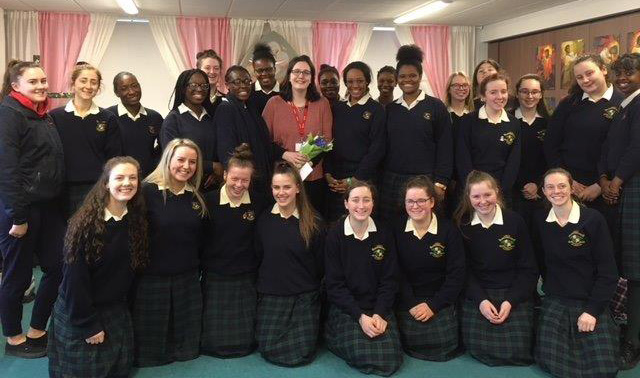 • Chuaigh scoláirí ón idir bhliain go Gael Linn an seachtain seo. Ghlac said páirt in imeachtaí eagsúla. Bhian siad ard taitneamh as an gcúrsa. TY students attended  Gael Linn this week where they took part in a lot of activities all through Irish. They really enjoyed the week.
• High School Musical tickets are on sale each day during lunchtimes.  €7 Adult - €5 Child/Student - €20 Family of 4
• Ms. Woodlock's TY Biology class attended day 1 of "Wooly Ward's Farm animal care course.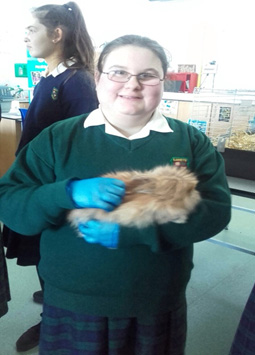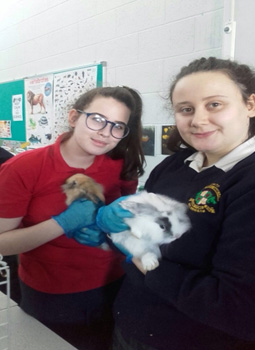 • Each of the first year groups visited Newgrange this week as part of their History course.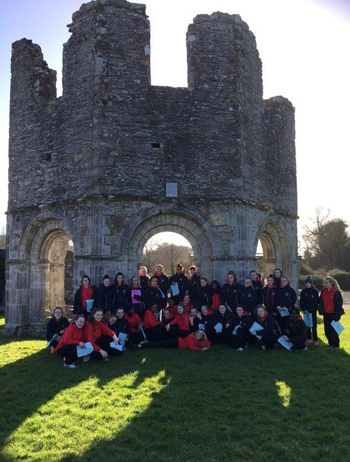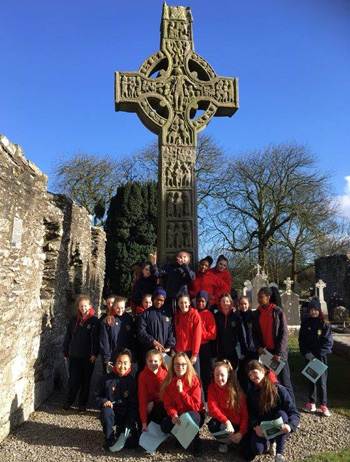 • The Parents Association would like to thank all who contributed to the Clothes Recycling Drive. It was a huge success with a total of €1325.00 raised. The school can now purchase 3 Visualisers which will greatly enhance the students'  learning.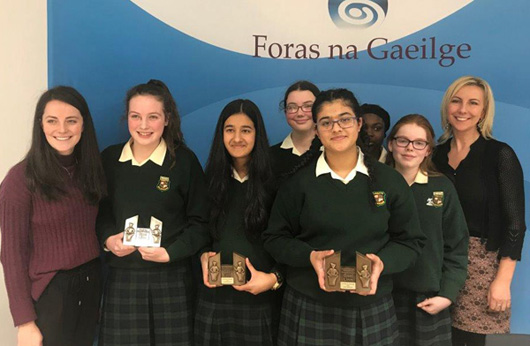 Irish Debating Team
Upcoming dates to note
• Tue, 27th Feb; School closed for New Junior Cycle Programme training.
• Thur, March 1st; School ends at 12:00 to facilitate mandatory child protection training for staff.
Academic Year 2018-2019
• Thur, 23rd August; School opens for 1st Year students.

• Fri, 24th August; School open for 1st, 2nd and 3rd Year students.

• Mon, 27th August; School open for 1st, 5th and 6th Year students.

• Tue, 28th August; School open for 1st, 2nd, 3rd, 5th and 6th Year students.

• Monday, 3rd September; TY students return.

TY Work Experience 2019; Mon, 28th Jan - Fri, 15th Feb, 2019
Termination of rear access to school campus.
Letter for parents re. above

Parent Mailing List
We are currently compiling a mailing list for parents/guardians of students from 1st, 2nd and 3rd Year through which we can relay information about ongoing activities and events in your daughters year group. Your daughter should have brought home the form linked to below. If it was mislaid, and should you wish to be on this mailing list, please complete the form and have your daughter return it to her form teacher or the school office.