News update, Mar 16th, 2018
• Congratulations to Robert Bell who presented the results of a project entitled "Can we try eliminating human error in recycling?" He and his group "e-Trash" had been working on the project over many Saturdays as part of the Trinity Walton Club in Trinity College Dublin. Trinity Walton Club is a STEM project for secondary school students run by the School of Physics in Trinity College Dublin on Saturdays.
• This week we celebrated "Seachtain na Gaeilge. Bhí a lán eachtraí ar siúl i rith na seachtaine. Lots  of fun activities were organised and there was plenty of "ceol agus craic". Many students took part in the bake off and Rithika Gill was deemed the winner. Maith thú Rithika.
• Congratulations to the Jigsaw Peer Educators who received their certificates of participation in the "It's time to start talking" training programme. The students will deliver a presentation based on raising the awareness of mental health to their peers over the coming weeks.
• Well done to our 5th Year Students and their teachers who had a great day last Saturday working together to complete the Run-A-Muck  challenge.

• On Thursday, 24 TY students assisted our local Balbriggan Tidy Towns committee and spent their day preparing some areas at the train station for flower planting as well as picking up the litter throughout the town. The volunteers were full of energy and enthusiasm and really made a difference to our local area. Well done girls and watch this website for more initiatives from the teams in the coming weeks.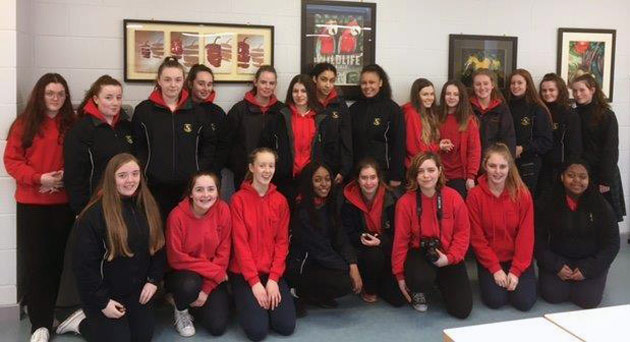 • It was a very busy week for our hockey teams. Four of our hockey teams played in the North Side league this Wednesday in Trinity sports grounds in torrential conditions. Our Minor Bs and Senior As won gold and the Senior Bs and First year team won silver medals. It was a fantastic achievement for all teams to get into the final, long may this success continue.
The senior A team played in the Leinster final on Thursday in Three Rock Rovers. It was a thrilling encounter against Sutton Park. The girls went 2-0 down in the first half but came back in the second half with 5 minutes to go to equalise with two magical goals. It was a thrilling spectacle and shows the girls appetite to win. 2-2 was the final score. The game went to penalties and yet another 2-2 draw.  Nothing was separating the sides and the game continued to sudden death penalties. 1-1 in the first round, the game finished with 1-0 in the last sudden death with our goal crossing the line a millisecond too late. Congratulations to our entire Senior A hockey panel, all 20 players. It was a fantastic achievement to get to a Leinster final as it was 14 years ago since the school has progressed to this stage. All the coaches are extremely proud of the girls and couldn't have asked for more of them throughout the year. We will now compete in Leinster 1A next year, a promotion we all welcome and will look forward to the challenge.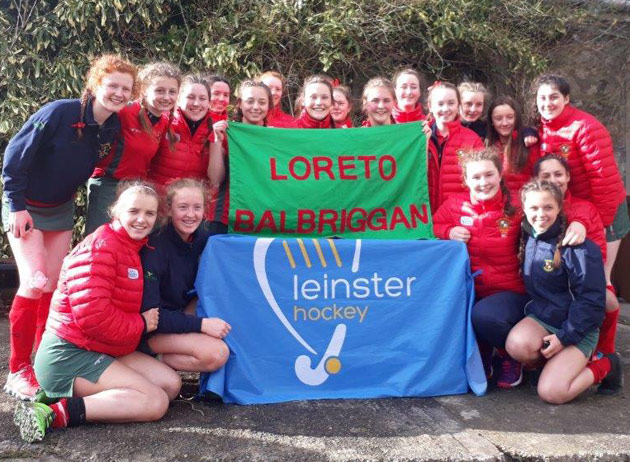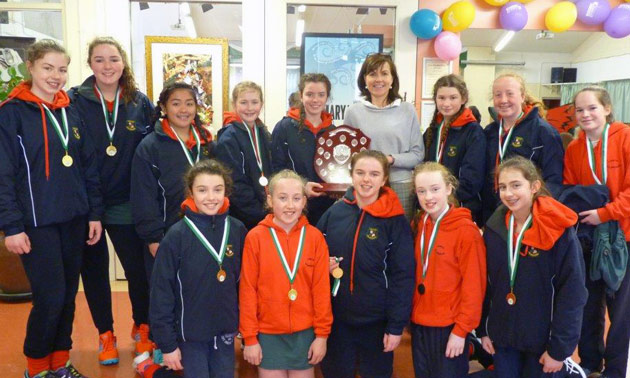 • The Class of 1998 will hold their reunion on Friday 28th September 2018 in the Bracken Court Hotel. Tickets will be approx. €20. Further details will follow.
• Congratulations to Kate O'Kelly, Aoife Conroy, Allesandra Grosariu and Emily O'Sullivan who have made it through to the finals of the Mace Debates final next Thursday, 22nd March in Loreto Navan.
• Congratulations to the Water Polo Team who came second  in their event.
• Congratulations to third year student Sorcha Murphy has been named Junior Girls Captain of Balbriggan Golf Club.
• We would like to wish all the best to our TY students as they take to the stage next week with their fabulous production of High School Musical.

• Reminder that the school will be closed next Monday 19th March and will reopen Tuesday 20th at the usual time.

• Lá Féile Phaidraig Dhaoibh Go Léir.
Academic Year 2018-2019
• Thur, 23rd August; School opens for 1st Year students.

• Fri, 24th August; School open for 1st, 2nd and 3rd Year students.

• Mon, 27th August; School open for 1st, 5th and 6th Year students.

• Tue, 28th August; School open for 1st, 2nd, 3rd, 5th and 6th Year students.

• Monday, 3rd September; TY students return.

TY Work Experience 2019; Mon, 28th Jan - Fri, 15th Feb, 2019
Termination of rear access to school campus.
Letter for parents re. above

Parent Mailing List
We are currently compiling a mailing list for parents/guardians of students from 1st, 2nd and 3rd Year through which we can relay information about ongoing activities and events in your daughters year group. Your daughter should have brought home the form linked to below. If it was mislaid, and should you wish to be on this mailing list, please complete the form and have your daughter return it to her form teacher or the school office.