Recent News
News update, Mar 31st, 2017
• Leaving Certificate Irish Orals took place this week for our students. French and German Orals take place next week. Best of luck for them. Our Third Years were also extremely busy this week as they had their Music and Home Economics practical for their Junior Certificate exam. Some beautiful sounds were heard and meals prepared during this week. Well done girls.
• A fantastic day was had at the Fingal Student Enterprise Awards on Thursday by our 4th, 2nd and 1st year enterprise groups. The groups which competed on the day were Glitz & Glow, Sweet Feet, A & A Products, Easy Inserts, Poca and Shopaholics. Each group showcased their exciting and innovative business ideas to judging panels and did themselves very proud. Shopaholics were awarded the Runner Up prize in the Junior competition and A & A Products were awarded the Runner Up Prize in the Intermediate competition. The future is bright for all our budding young Entrepreneurs who took part in the day, well done girls.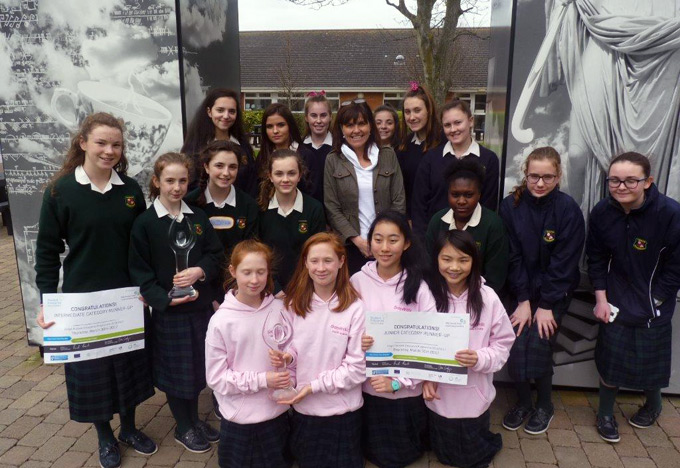 • We welcomed students from Loreto Ballarat in Australia to the school on Thursday. They visited Ireland as part of a European tour. They experienced some Irish culture having music and drama displays, they attended classes and visited Newgrange on Friday morning. We wish them well on the remainder of their journey. Many thanks to the fifth year students and their families for their generous hospitality.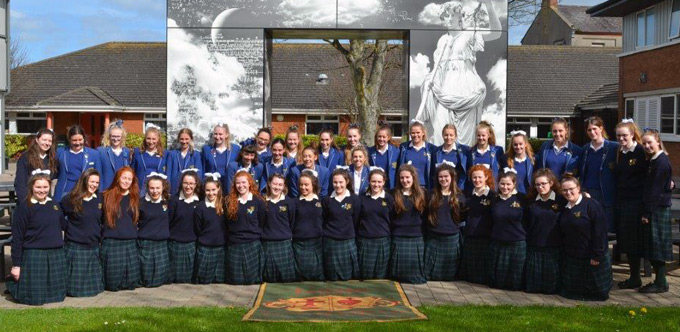 • Huge congratulations to the U.14 Gaelic Football team who won the Loreto Gaelic Blitz today. Huge numbers turned up at the blitz with our students winning all of their games against Loreto Dalkey, Loreto Stephens Green, Loreto Foxrock, Loreto Bray and two teams from Loreto Swords. Well done, girls!
• 2E welcomed Minister Regina Doherty to their class on Friday. She spoke to the girls as part of their Action Project for C.S.P.E.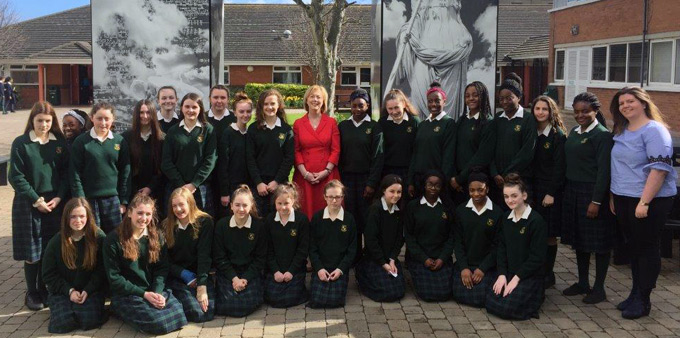 • The 2C & 2H classes went on a trip to the Dail on Wednesday. Thank you to Darragh O'Brien, T.D. and Timmy Dooley, T.D. for a most enjoyable day.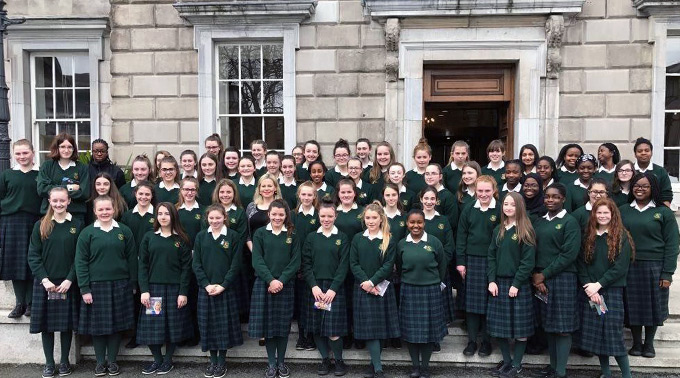 • Emily Forkin, Frances Mulholland, Enya Andersen, Cleo Gallen and Kirsty Burns represented the school at the Young Environmentalist Awards on Wednesday. Well done girls.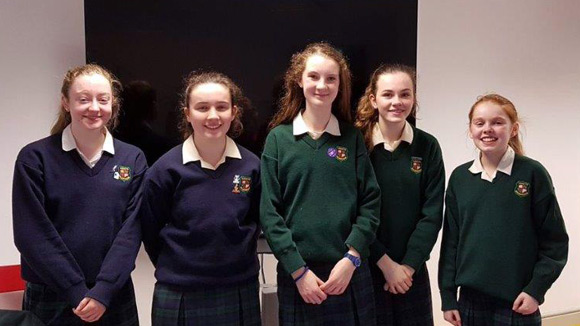 • Our water polo team took to the water again this week and represented themselves proudly. Well done girls on your participation in this new sport to the school curriculum.
• Our final two First Year class groups went on their trip to Newgrange, Monasterboice and Mellifont Abbey. They had beautiful weather for their trips.
News update, Mar 24th, 2017
• Well done to the Walton's music group which was selected as one of six schools to perform in the National Finalist Concert for the Walton's Music for Schools Competition. They will perform in the National Concert Hall in Dublin on Tuesday, 2nd May. Thank you to Eibhlin McCarthy, Aoife Bowers and Katie Dinsmore of 5th Year for all their hard work with the group.
• Mace Debates also took place on Tuesday. The girls spoke on a variety of topics and held their own against stiff competition. The supporters thoroughly enjoyed the debate.
• Our First Year classes visited Newgrange, Monasterboice and Mellifont Abbey during the week as part of their history class curriculum. A different class attended on each day and there will be two more trips next week. All of the students enjoyed their trip to visit our ancient heritage sites and didn't even let the weather get them down on Wednesday.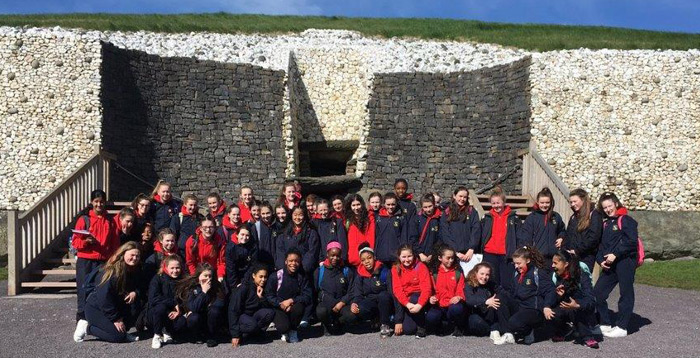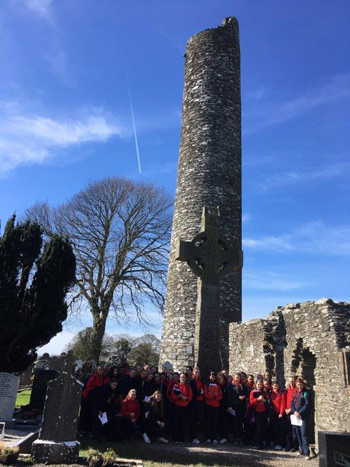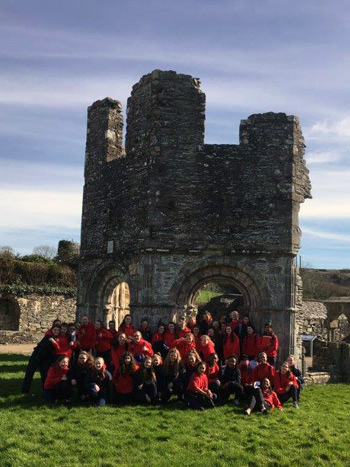 • Our Sixth Year students had a talk this week on how to de-stress and relax in the run up to their examinations. Thanks to Friends of Autism and ADHD charity for funding the talk.
• On Friday the students participated in a "breakfast" morning in aid of Jigsaw North Fingal. The girls were able to have their tea and toast in the hall from 8.10 a.m. prior to going to class. Well done girls, all your donations will be put to good use by Jigsaw.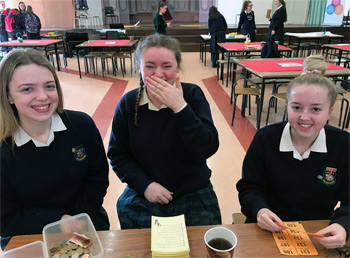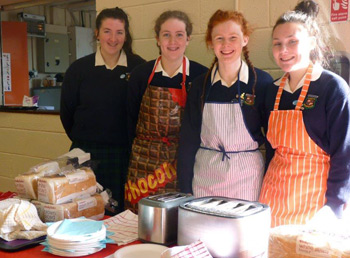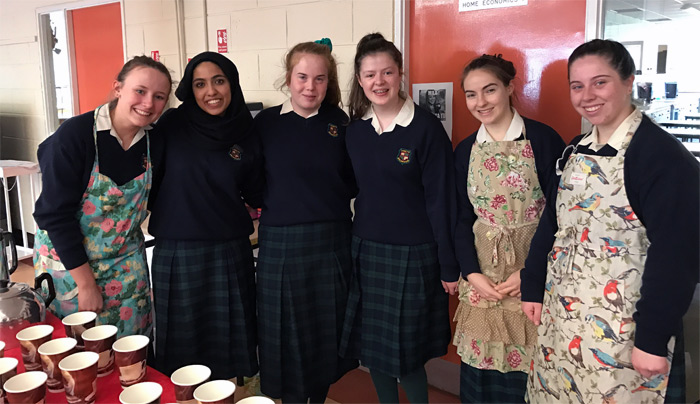 • The TY JPIC group met on Tuesday last to plan for up-coming campaigns. The group will present two peer to peer education workshops on climate justice to two JPIC module groups next week. They have already presented this workshop to two other groups. Also they have invited in a speaker who is involved in support services for the homeless in Dublin city to gain an insight into this current crisis and explore how they can help.
• Our Water Polo team who came third in the All Ireland Senior Cup tournament on Wednesday which took place in the National Aquatic Centre. Pictured below are Maeve Cope, Aimee Woolley and Alannah McCann, members of the team. Congratulations to all and a special congratulations to our goal scorers, Gillian Farrelly, 6 goals, Alannah McCann, 5 goals and Maeve Cope, 3 goals.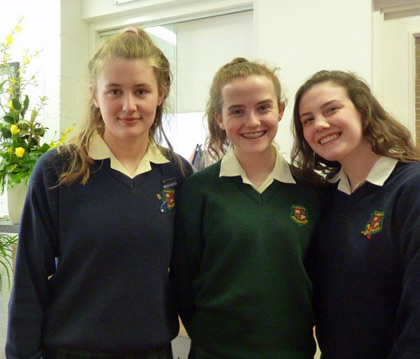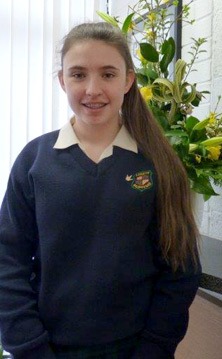 • Commiserations to our Golfers, Saoirse Lambe, Tegan Gordon and Georgia Flynn, who played on Tuesday. They played well but unfortunately didn't place.
News update, Mar 15th, 2017
• Well done and hard luck to our G.A.A. players who lost their match on Tuesday in Emyvale in the last minute by one point. It was a very exciting and hard fought match and girls, you did a great job and played brilliantly.
• Our Minor and Junior Hockey teams were playing in their final on Wednesday. The Juniors were very unlucky to lose their match on "golden goal" in extra time. Hard luck girls. Congratulations to the Minor team who took away the trophy. Well done girls.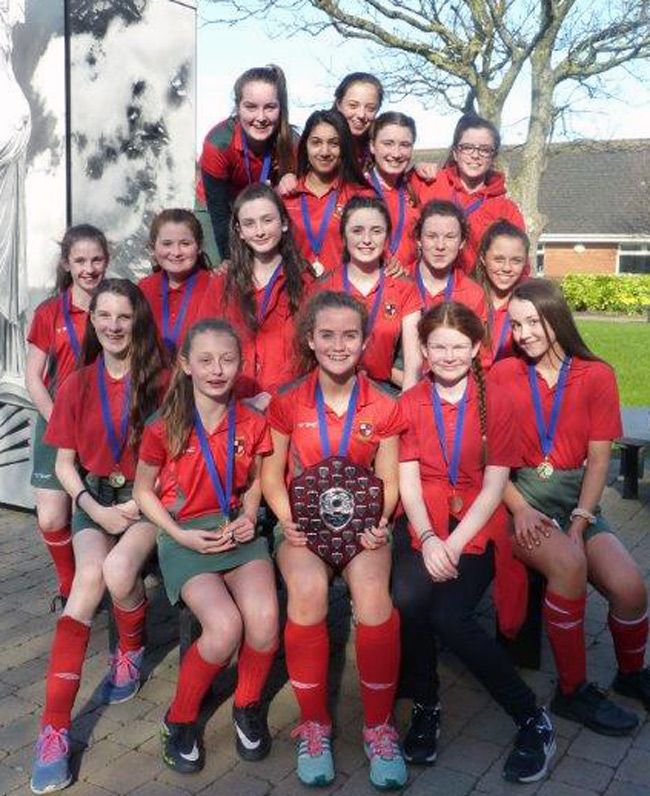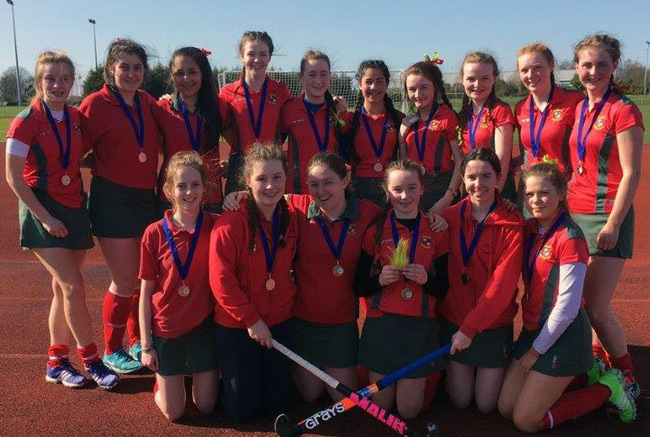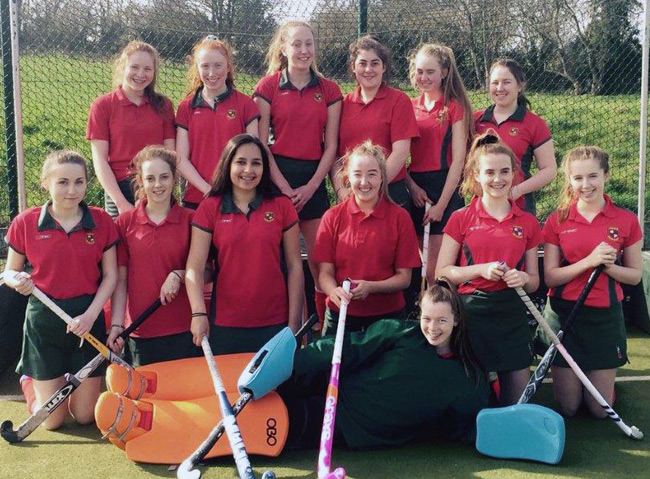 • A meeting for parents of current Third Years took place on Monday evening to explain our Senior Cycle structure and the option format. It was very well attended and hopefully informative for all.
• On Tuesday of this week, our 5th year Senior Prefects ran a Subject Fair for 3rd year students in the atrium over the course of the afternoon.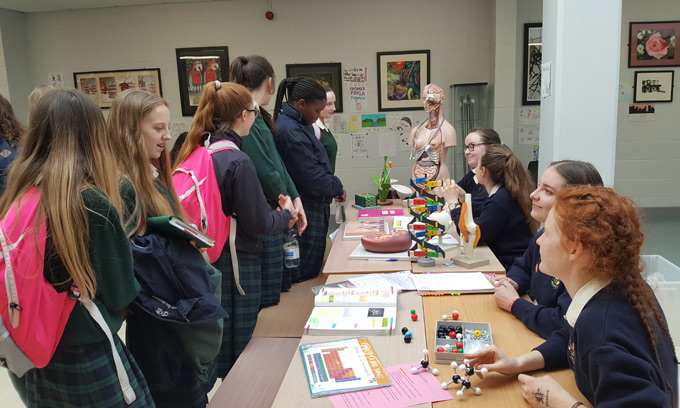 The aim of the Fair was to help 3rd year students to make informed choices regarding their option subjects for Senior Cycle. Each of the 14 Senior Cycle option subjects was represented by two/three 5th years. These students discussed their chosen subject with 3rd years, answering their queries about course content, level of difficulty, assessment and usefulness for future careers. 3rd years had already been given short presentations by teachers that morning on each of the option subjects. The peer-to-peer consultations which followed later in the day proved to be worthwhile and insightful opportunities for 3rd years to talk to fellow students and to receive practical advice and guidance. 3rd year students are directed to the Careers Portal website (www.careersportal.ie) for further subject information and are reminded that the deadline for submitting their Senior Cycle subject choice is 9pm on Tuesday, 21st March.
• An assembly for 5th Year students took place on Tuesday.
• The French Department held an Information meeting for parents of students travelling to France for a "Home/Stay experience" over the Easter holidays.
• Intensive rehearsals continue for the Transition Year Musical "Beauty & the Beast" with students coming in over the weekend to rehearse. It looks like the new film will have stiff competition.
• The Transition Years were also hard at work auditioning for parts in the upcoming Mock Trial Competition. The auditions will continue next week.
• Tá deireadh tagtha le himeachtí Seachtain na Gaeilge anois agus nach seachtain den scoth a bhí ann – Danny O'Reilly ó na Coronas, comórtas ealaíne, Tráth na gCeist Boird, Tóraíochta Taisce, Ceol Thráidisiúnta, Tae agus Plé; gan trácht ar spraoi agus craic! Comhghairdeas le gach duine a ghlacadh páirt. Mar a deir an seanfhocal "Tir gan teanga, tír gan anam". Lá Fhéile Phadraig shone dhaoibh go léir.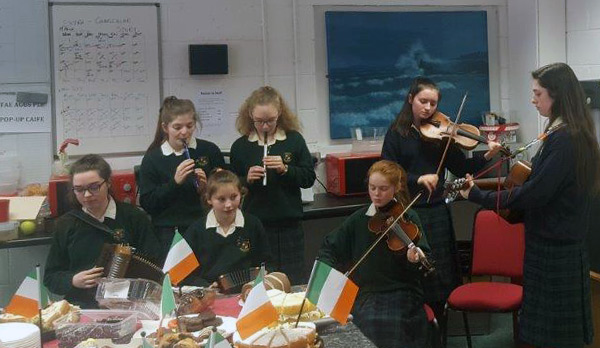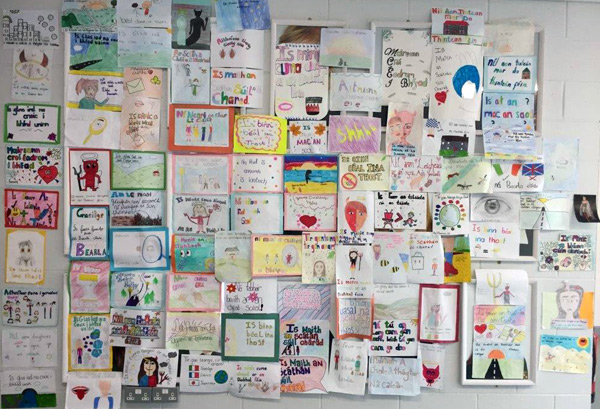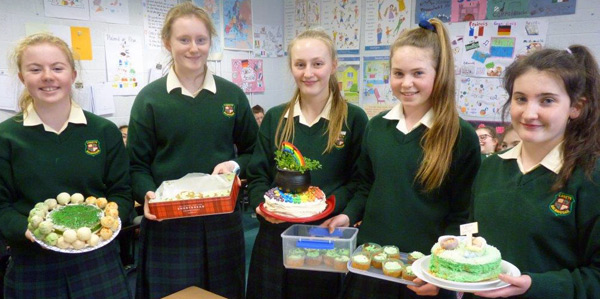 News update, Mar 11th, 2017
• Our student council had a meeting on Friday over lunchtime to discuss their plans and activities for the remainder of the term.
• Well done to all who participated in the Student/Staff Rounders match which took place over both lunch times on Friday. They were fantastic matches and the result has been declared "a draw". Ahem!
• Best of luck to all our staff and students who are taking part in the RUN-A-MUCK challenge this weekend. Hopefully the rain will hold off but just in case, remember to bring a change of clothes for the journey home!
• Seven Transition Year students participated in the third annual PE Expo in Ballymun on Wednesday. They were showcasing their Sports Science projects which they have been working on all year. They had a great success winning two categories. Well done girls.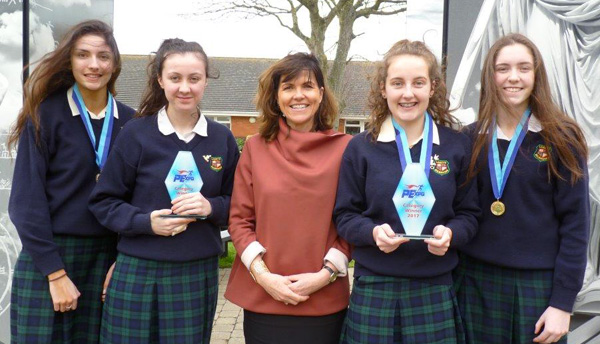 • Junk Kouture – Well done to the 21 entries in last week's semi-final of Junk Kouture. Particular congratulations to the two groups who are through to the final.
• In preparation for Seachtain na nGaeilge next week, the school hosted Danny O'Reilly from the Coronas on Thursday afternoon. The 5th Years were delighted to meet Danny and really enjoyed the performance he put on for them in the hall. Many thanks Danny, for coming to visit us.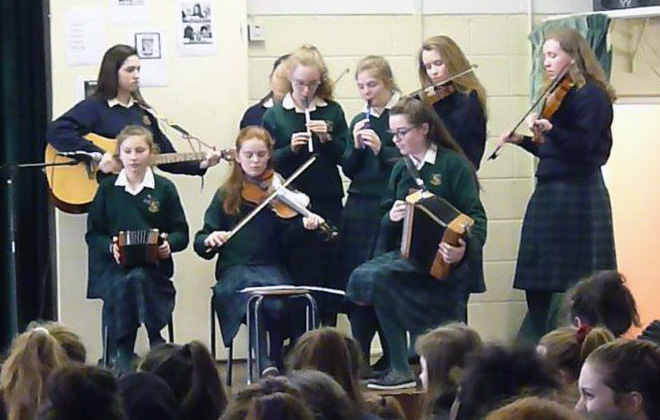 • The Junior Certificate Science students were very busy this week as they completed their Science practicals for the Junior Certificate examination June 2017. Well done girls on completing this aspect of the examination.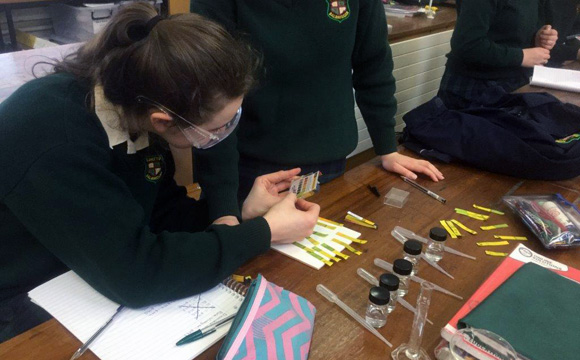 • Congratulations to Emma Fagan in second year who has been chosen to represent Leinster in the Irish School Swimming Championships in April.

• The Art Department had a "follow up" Art Inspection on Tuesday. The Inspector met with school management, art teachers and some students.

• Our Assessment Tests for Incoming First Years 2017/18 were held last Saturday. The girls turned up bright and early to sit their exams and we look forward to welcoming them to our school in the next academic year.

• Fifth Year students were given a talk on Mock Interviews this week and are now prepared to face all challenges when completing application forms and interviews.
• Congratulations to all our players who participated in Basketball, Hockey and camogie matches this week. Well done girls, you played brilliantly even in the torrential rain on Monday. A special word of praise to our 1st and 2nd Year teams who qualified for the Minor and Junior Leinster Quarter Finals. Best of luck girls in these upcoming matches. Congratulations also to our Junior A and Minor A hockey teams who are in the Northside League Final on Wednesday, 15th March after winning their match today.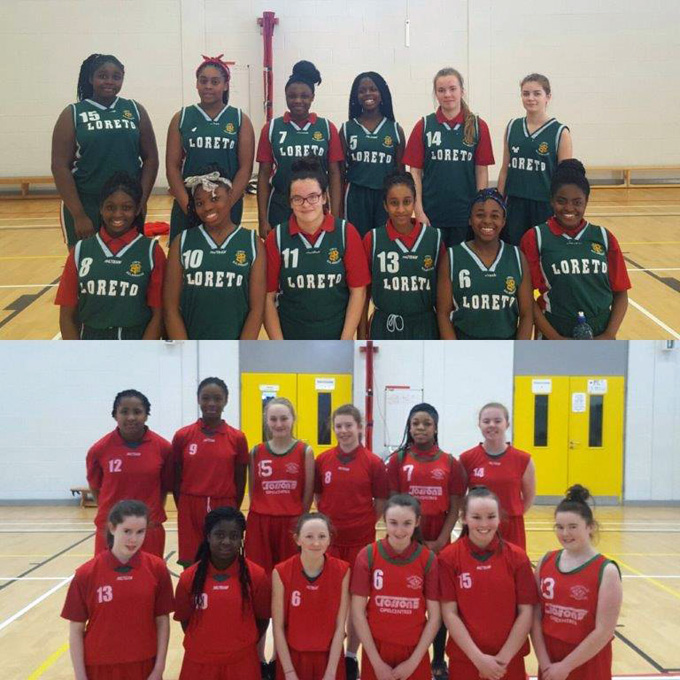 • Brian Gregan visited the school on Tuesday afternoon to talk to some of our students as part of our "Living for Sport" initiative which is organised in conjunction with Sky Sports. He ran some team building activities and gave a very informative talk to the girls.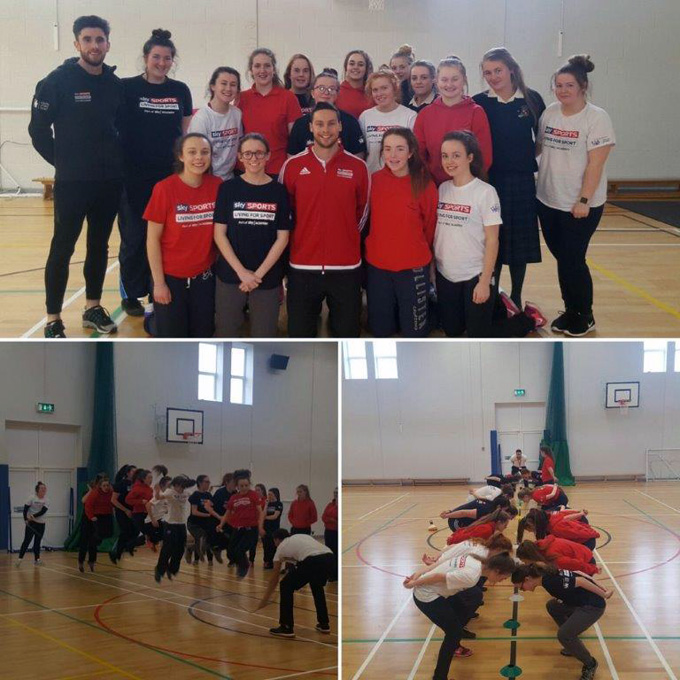 • Our Senior Choir participated in the "Emmanuel" Concert which was held in the Helix on Wednesday evening. As usual they performed beautifully.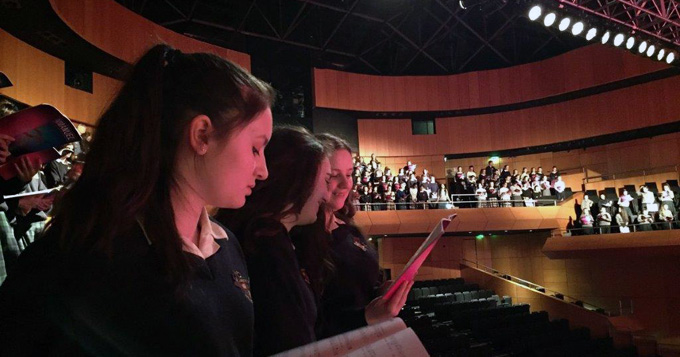 • Another set of 5th Home Economics students visited Butler's Chocolate Factory on Friday. They saw the reality and the hard work that is involved in getting our special chocolates in the shops.
News update, Mar 3rd, 2017
• Junk Kouture – our 21 successful designs headed off on Friday to prepare to show their designs in the regional finals which will be held in the Helix on Friday evening. The students were very excited to be heading off. The very best of luck to all. (Photos below)
• Ashes were distributed to all staff and students who wished to receive them on Wednesday. The Ember students after attending Mass in the parish church helped distribute ashes to the local community and later on to the school community.
• Many thanks to Fr Wayne Coughlin & Deacon Michael for their welcome to our First Years on Wednesday morning. They had a lovely liturgy & received their ashes before travelling on to the Roald Dahl museum & Harry Potter studios.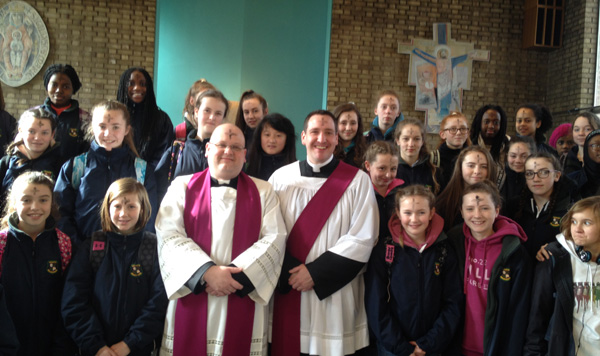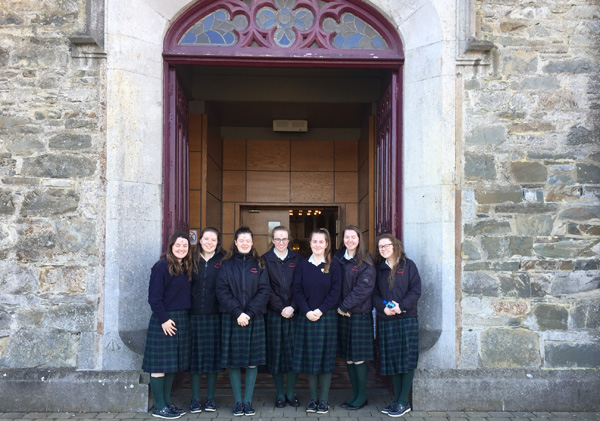 • Fifth Year students had a fantastic time skiing in Canada over the mid-term break.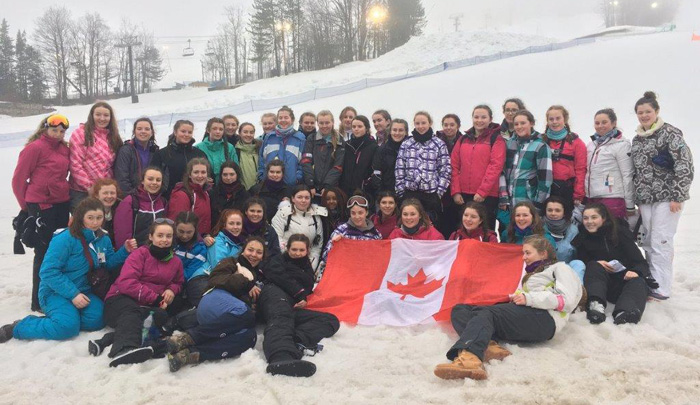 • Well done to all our hockey, soccer and basketball players on well played matches during the week. A special congratulations to the U.19 soccer team who have reached the quarter finals of the Leinster League.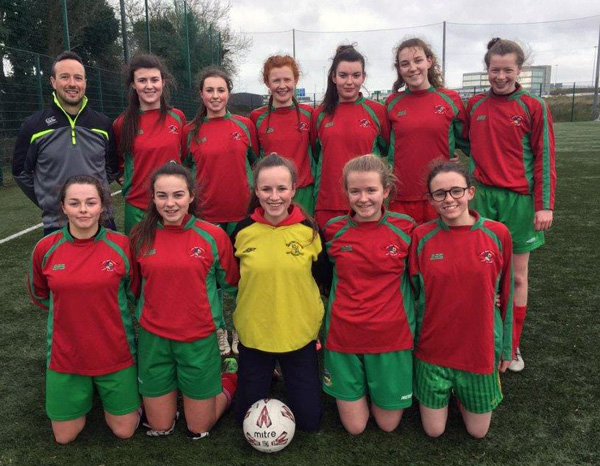 • 4D had an enjoyable prayer workshop with the Loreto Prayer Team. They explored meditation and Ignatian spirituality.
• 1st Year students received a safety talk from two local members of the Garda Siochana on Tuesday afternoon. They enjoyed being able to use their mobiles during the talk!
• Pancake Tuesday saw our First Year Home Economics students flipping pancakes in the kitchens. Well done girls, the floors and ceilings were still clean afterwards! Meanwhile the 5th Year Home Economics students went to the Butler's Chocolate Factory on Monday to explore the world of Chocolate.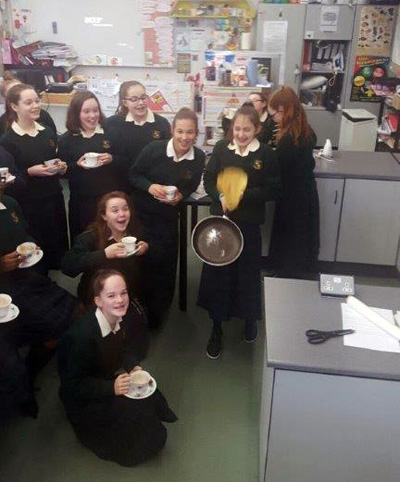 • Members of the Accord team have been in the school on Thursday and Friday to give RSE talks to 2nd Years.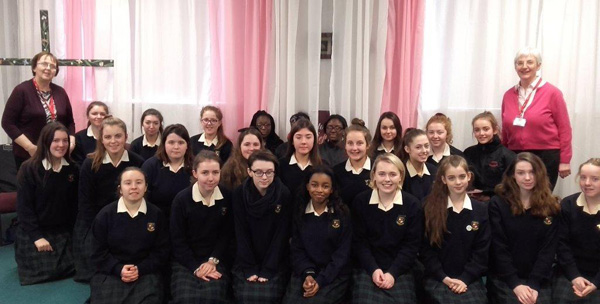 • Friday lunchtime saw the launch of our Fair Trade stalls by the 2G class helped by Ms. Caffrey. Various products were available.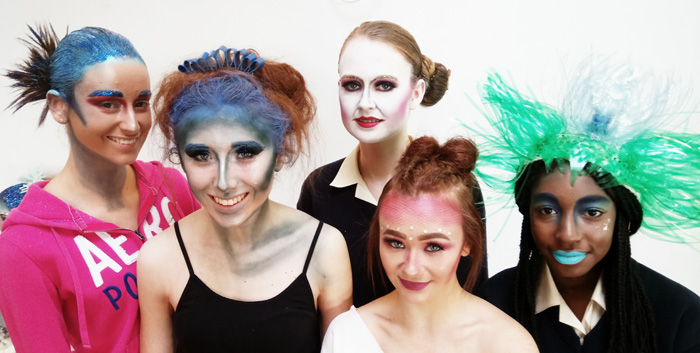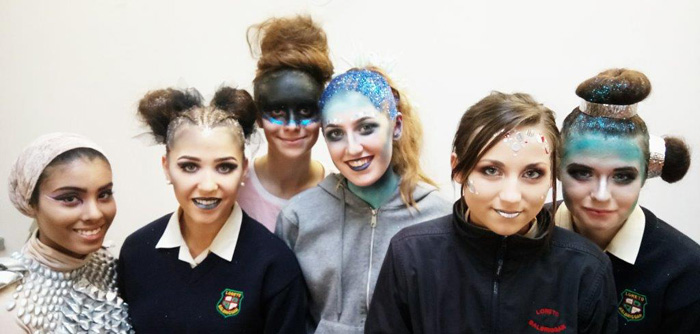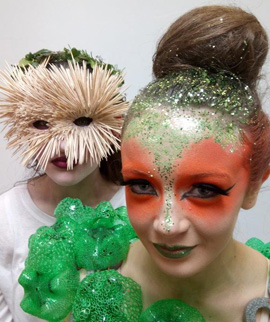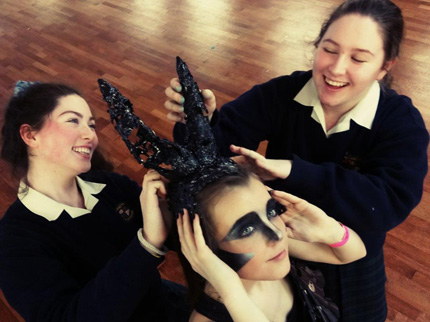 News update, Feb 17th, 2017
• Well done to all the students whose costumes have qualified for the semi-final of Junk Kouture. A record number of 21 costumes have been chosen representing the work and creative talents of students. This is a significant achievement. (Photo below)
• All 2nd Year students attended W5 in Belfast on Tuesday. Throughout the day the girls got to explore different levels of W5 and the displays and games dealing with topics like force, magnetism, space, crime scene analysis and ecology. At different points in the day the girls attended workshops and activities such as: The Silent Science Magic show; The Climb-it; A Technology workshop where the girls made motorised cars using technix and a chemistry workshop exploring endothermic exothermic reactions as well as neutralisations. A fantastic day was had by all and the girls were praised highly by all the staff at W5 for their good behaviour and their interaction with all the activities.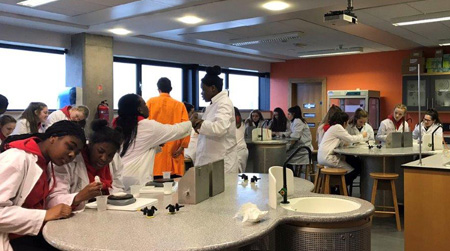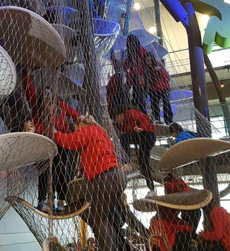 • Well done to Ruby Pereira, Lauren Murphy and Mairead Ni Cleirigh who came third in the All Ireland Cross Country Athletics final on Wednesday. Keep up the good work.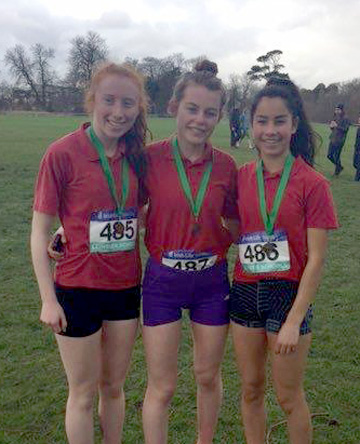 • A few transition year students took time out from their work experience to attend the iwish17 event and enjoyed visiting the many stands and workshops available. Transition Year Work Experience is coming to an end. The girls have had varied and interesting experiences. We are looking forward to a full report when they return.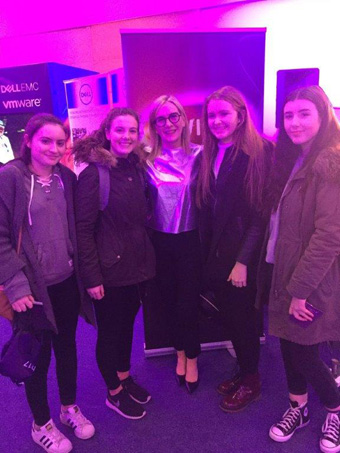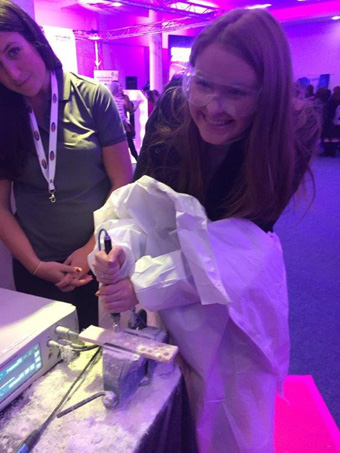 • Basketball, soccer and hockey matches took place during the week. Some very tough games were played. Congratulations and well done to all our players.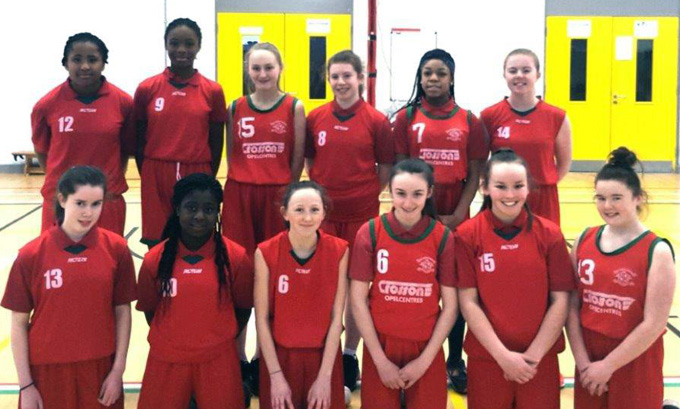 • And finally may we wish you all the best for the forthcoming mid term break.
• Best wishes to our Doodle 4 Google 2017 finalists. Please vote for Emma Landers & Dáire Stafford (Group 5) from 7th – 21st February by clicking here. Prizes of €5,000 and a €10,000 ICT grant for the school are possible awards!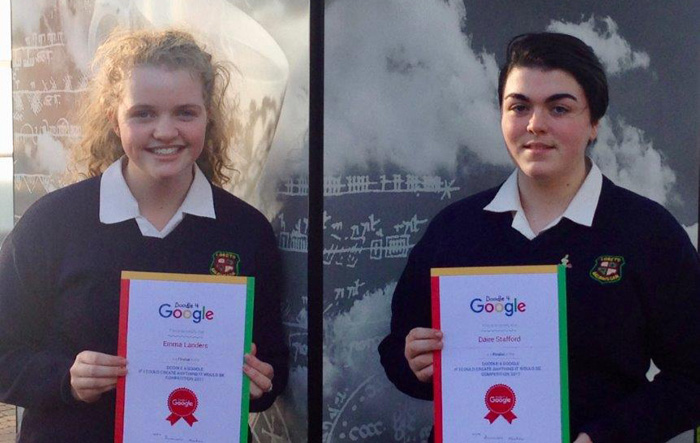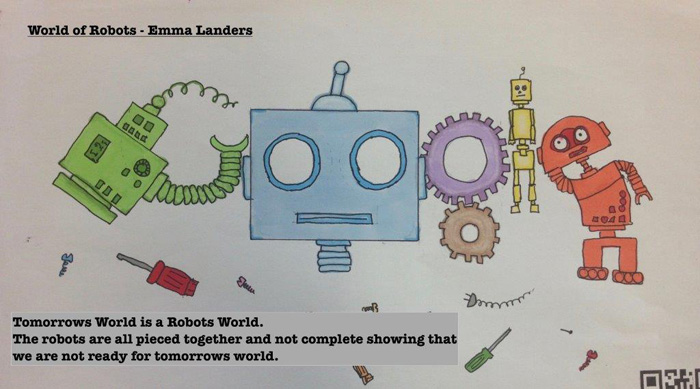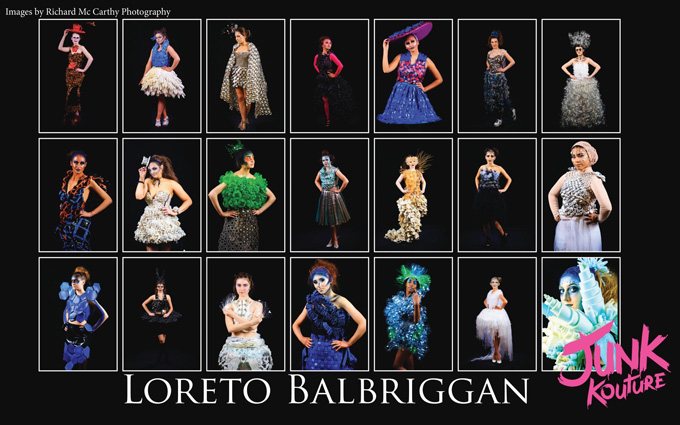 News update, Feb 10th, 2017
•Two groups of First Year students enjoyed trips to England on Tuesday and Wednesday to visit the Roald Dahl village and the Harry Potter studio. They were up bright and early to catch their plane and had a full day of tours and fun.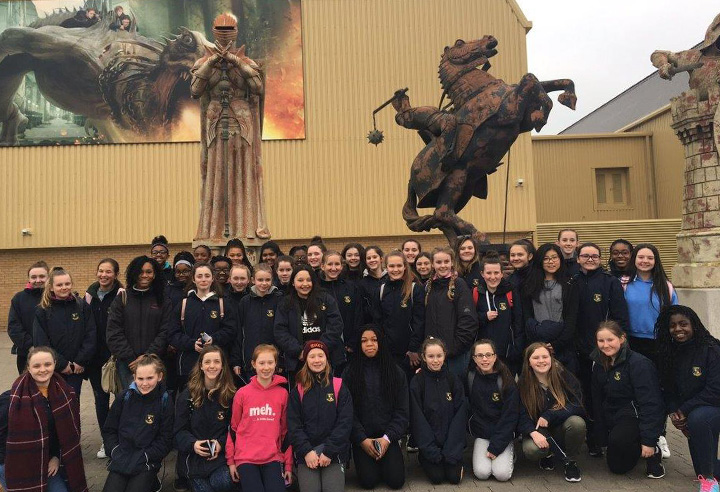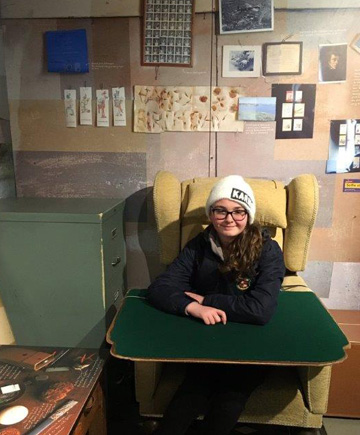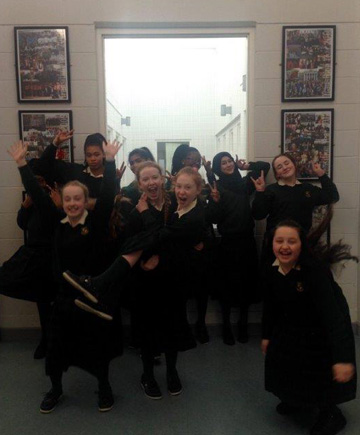 • Work Experience continued this week for our Transition Year students and staff visited some of the students in their work places to see how they were getting on. Below is a photo of Grainne Mongey who was chosen by An Post to launch their new stamp while on work experience in the National Museum.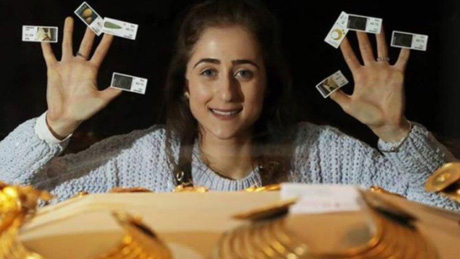 • Second Year students celebrated St. Brigid's day by making St. Brigid's crosses, a very successful enterprise.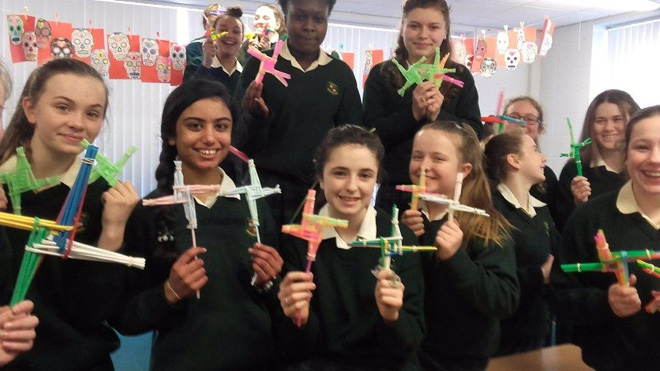 • Junior & Leaving Certificate students had a busy week as the Mock Examinations were in full swing. A lot of hard work and study for all. Mock Exams will finish next Friday.
• Basketball, soccer and hockey matches took place during the week. Well done to all.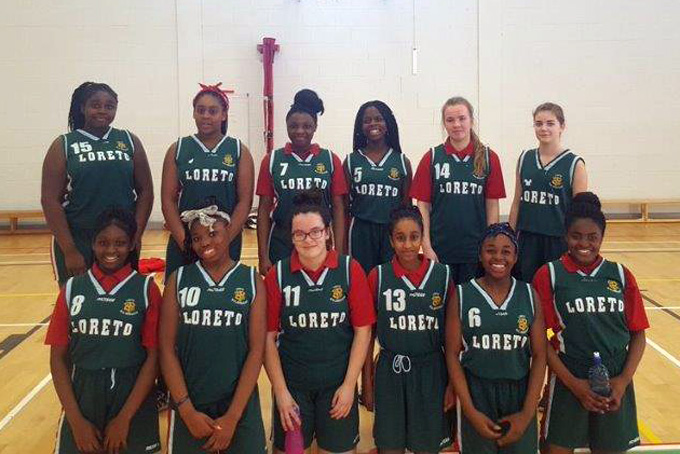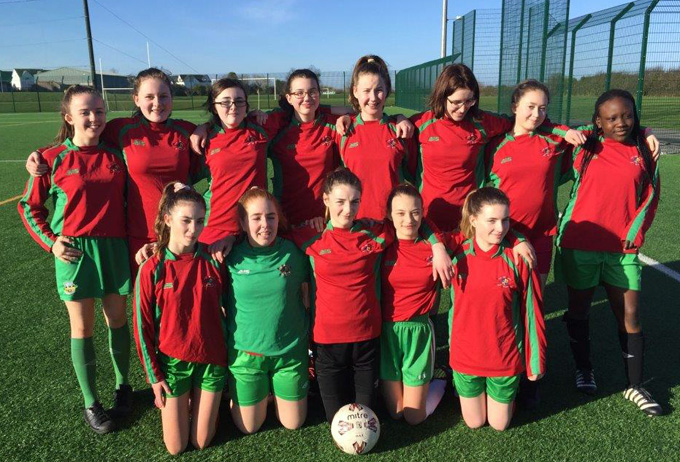 News update, Feb 3rd, 2017
• The very best of luck to all our 3rd & 6th Years who start their Mock Exams next week. Timetables are available above.
• Transition Years have one week of work experience behind them. We wish them all the best for the next two weeks and hope they are enjoying the variety and challenges presented to them.
• There was great excitement in the school on Thursday evening when the U.16 Gaelic Football team came home with the Leinster Cup after an exciting match against Bunclody. Final score 2-3 to 1-3. A great achievement girls, well done to all.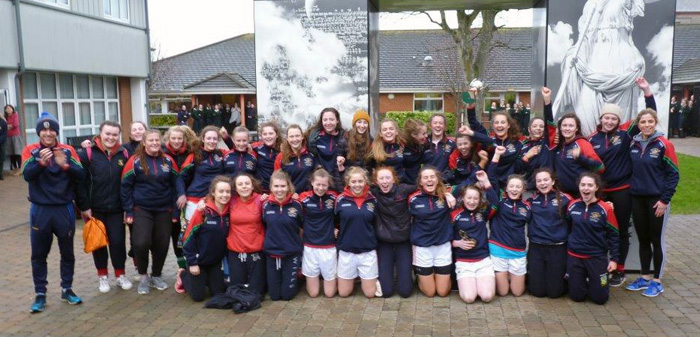 • The Music Department, Ms McFadden Ms Flynn and Ms Kearns, brought their third fifth and sixth year music classes to the National Concert Hall his week where Paul Rissmann gave illustrated presentations on their set works. Students then heard the set works performed by the National Symphony Orchestra. It was an excellent learning opportunity and most enjoyable experience for the music students.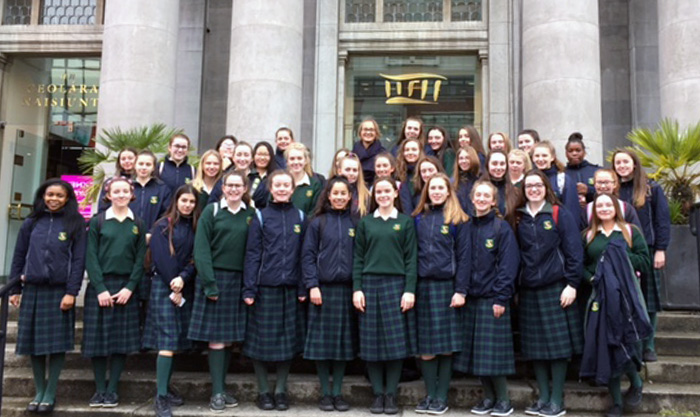 • It was Catholic Schools week this week and the school marked the week in many ways. St. Brigids day was celebrated on Tuesday with morning prayer. Throats were blessed on Friday to mark the feast of St. Blaize. On Wednesday, Ms. McNally brought the Ember students to the parish church to celebrate Mass in the community Church.
• Best wishes to our Doodle 4 Google 2017 finalists. Please vote for Emma Landers & Dáire Stafford (Group 5) from 7th – 21st February by clicking here. Prizes of €5,000 and a €10,000 ICT grant for the school are possible awards!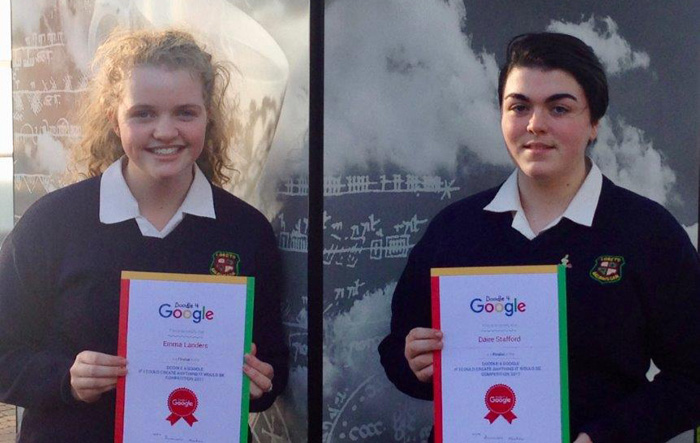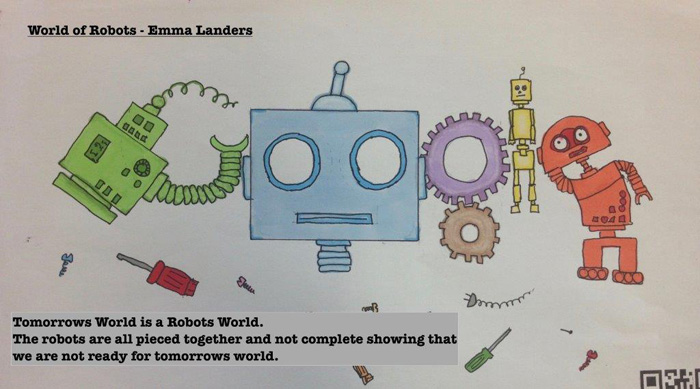 News update, Jan 27th, 2017
• This week is Mary Ward week and the school celebrated the life and work of our foundress with a wide range of activities, from competitions to quizzes to themed assemblies. Her vision of the importance of a holistic, value centered education for young women is lived every day in the school and evident in all the wonderful achievements and activities posted regularly on this site.
• Transition Year students are busy preparing for this year's musical production – "Beauty & the Beast".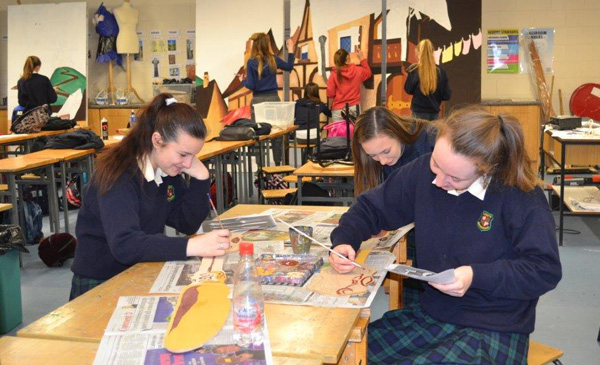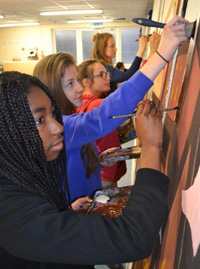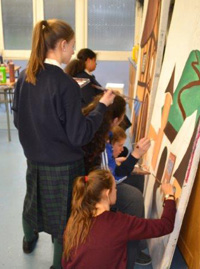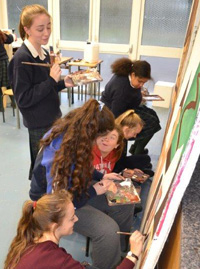 • Congratulations to all students who reached the final of the "Doodle 4 Google" 2017 competition with a significant achievement by Emma Landers and Daire Scanlan who have been selected for public voting. Voting will start in the next few weeks so watch this space for recommendations on how to vote for the girls.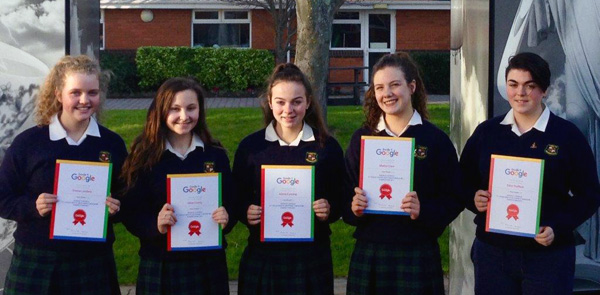 • Congratulations to Transition Year students Niamh Daly, Emma Kleiser Byrne, Aoife Conroy, Roisin Flynn, Zarmeen Gull, Ciara Mackle & Hannah Rudden who were recognised for their outstanding performance in the Junior Cert Business Studies examination by Maynooth University School of Business. Niamh Daly spent an evening in Maynooth University this week where she was presented with the award of behalf of her peers. The Business Studies Department were also awarded for their Contribution to Teaching and Promotion of Excellence in Junior Certificate Business Studies on the night. This group of students achieved among the highest of grades in Ireland in the Junior Certificate Business Studies Exam and this is a fantastic accolade to receive. Well done girls.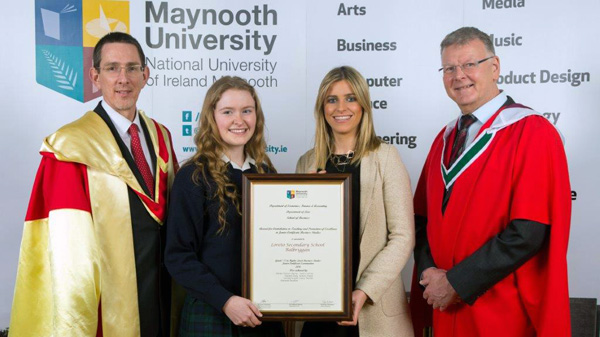 • This week six of our Senior Students took part in the Loreto Mace Debate in Loreto Beaufort. There was fierce competition but the girls shone through. Well done to Manny Choudhry, Orla Thompson, Kimia Esmaeilzadeh, Aoife Conroy, Maria-Louise Fufezan and Ruth Guildea. A special congratulations to Manny and Orla who have made it through to the semi-final in March!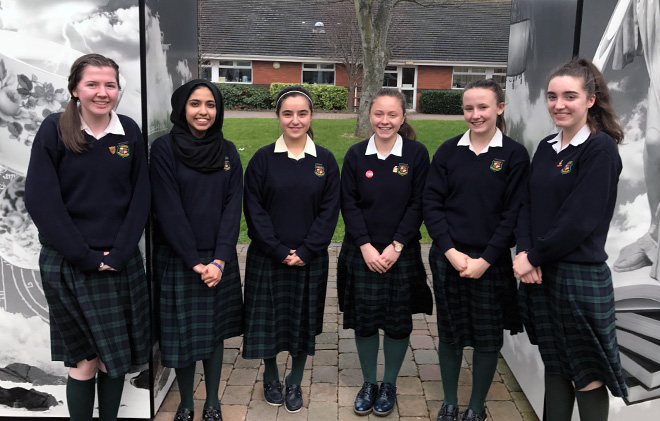 • Congratulations to the U.16 Gaelic Football team who this week booked their place in the Leinster final by beating Loreto Navan in the Semi-final. The girls put in a great team performance to beat a very strong Navan side by a score line of 2-10 to 1-6. Well done girls. A fantastic match took place today when the U. 16 Camogie team put up a valiant fight in the final of the U.16 Leinster Championship against Colaiste Cois Life. Unfortunately they lost by a few points but we are still immensely proud of their achievements.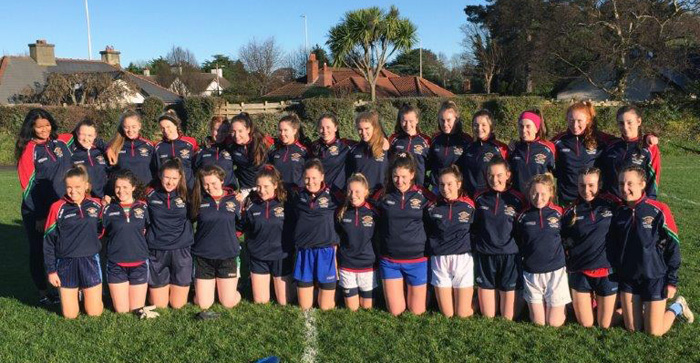 • A huge congratulations to the students who participated in the North Leinster Cross Country Competition in Santry today. Our intermediate team came first in the competition. The team included Ruby Pereira, Lauren Murphy and Mairead Ni Chleirigh. Well done to all students who took part.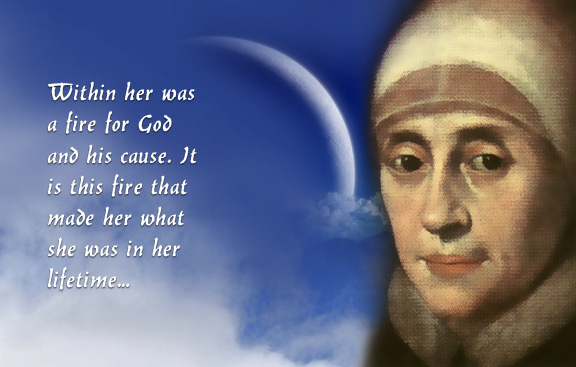 News update, Jan 20th, 2017
• It was a very active week on the sporting front with matches in hockey, soccer, GAA, basketball and Spikeball. Well done to all the teams. Loreto Balbriggan reached the 1st year Spikeball finals on 18th January. Two schools from each region qualified and a blitz was held on the day to determine All Ireland champions. We finished seventh in the country and played well on the day. Well done girls.
• We have had a busy and exciting week this week in Loreto Balbriggan. To start the week off we had the school heats of Junk Kouture on Monday and Tuesday nights. What a fantastic show. Both costumes and performances were exciting and inspirational to watch. The hard work, creativity and energy evident in the production made for a truly entertaining evening.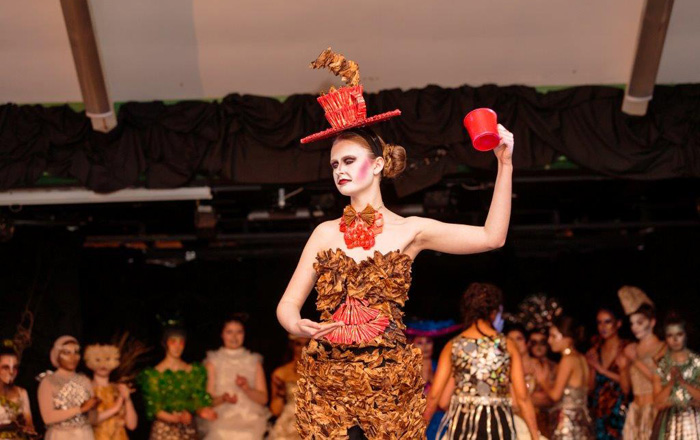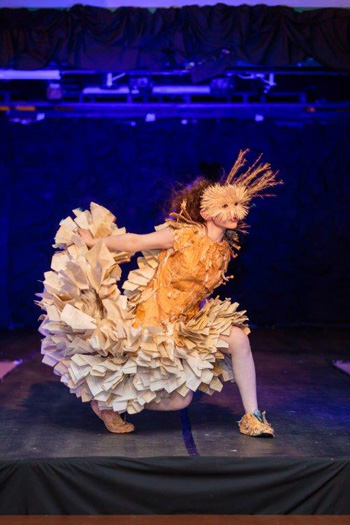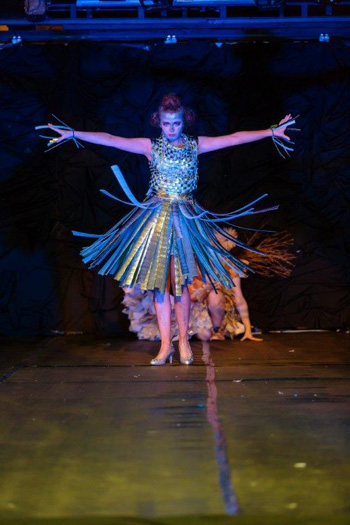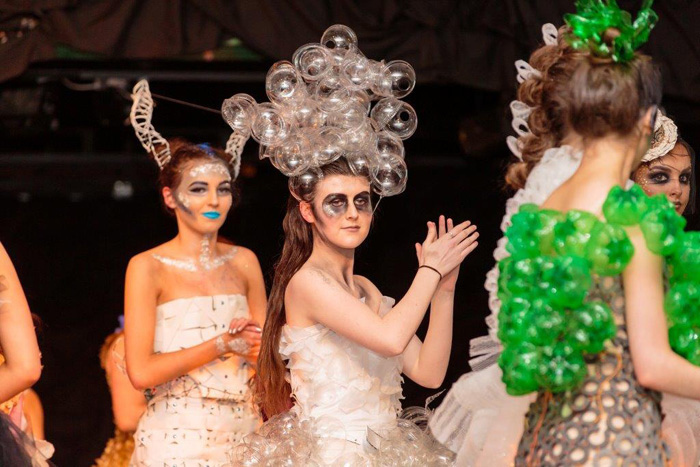 • "Food for Thought" which was held on Wednesday 19th left everyone speechless. A magnificent night with the mingling of brilliant minds, all sharing a passion for science and good food. Huge thanks to the panel led by Prof. Donal O'Shea, Ms. Cathy Monaghan, Ms. Kevina Cardiff, Ms. Nicola O'Byrne and Dr. Lyndsey McTavish Lynam. Our main sponsors for the night were Kerrigans Fruit, Country Crest and Supervalu. Huge thanks to them. Also many thanks to Sharon Hearne Smith for such a creative cookery demonstration. Thanks also to all the food stands who shared their produce so generously.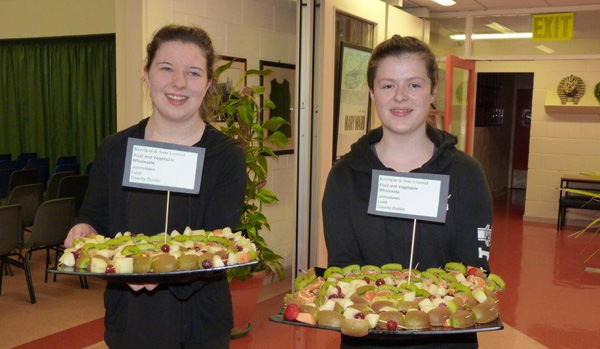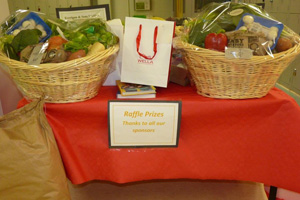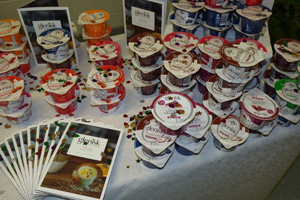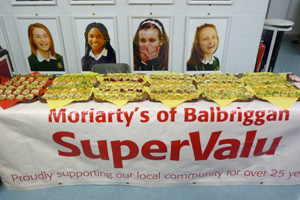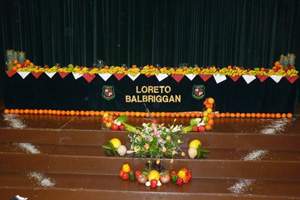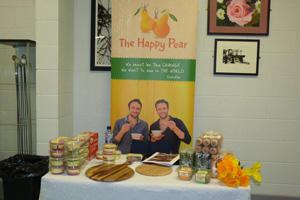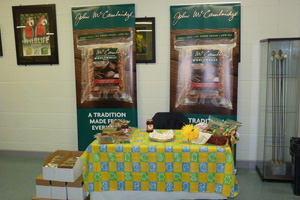 • The T.Y. Fundraising committee presented a cheque for €630 to Tom O'Neill for the Balbriggan Branch of Guide Dogs for the Blind. The girls raffled over 40 prizes before Christmas in their "Twelve Days of Christmas" raffle. Thank you to all who generously supported this wonderful cause.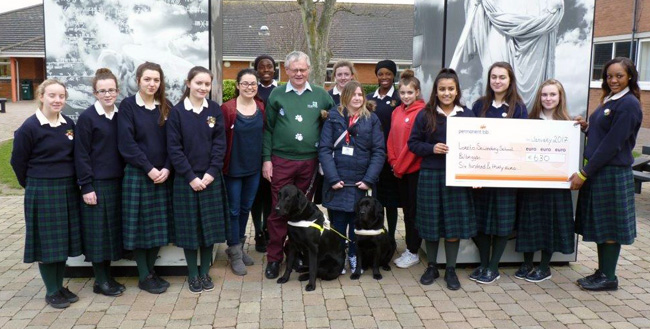 News update, Jan 14th, 2017
• Welcome back and a happy new year to the whole school community; students, staff, parents and all connected with Loreto Balbriggan We look forward to an interesting and fruitful year ahead.
• Food for Thought – On Wednesday next the 'Food for Thought' exhibition will be held in the school, starting at 7.30. Don't miss what promises to be a very interesting and informative evening. Click here for more details. (Full article link)
• Well done to all our BT Young Scientists on their participation in this year's exhibition. They travelled on Wednesday, Thursday and Friday to the Exhibition in the RDS with a fascinating selection of studies. The school's involvement in BTYSE was the subject of an interesting feature on RTE's Nationwide on Wednesday, 11th January.
Also, Emma O'Kelly from RTE Six One news visited the school on Tuesday, 11th November to speak about the school's focus on STEM education. She visited the labs and spoke to students involved in BTYSE past and present. The report was broadcast on the Six One News on Wednesday, January 11th.
Special congratulations to our prize winners this year;-
Health Research Board Award: First place, Biological and Ecological - Intermediate: Sophie Weldon, Laura Weldon, Emma Kleiser Byrne; Does consuming certain varieties of potatoes as a staple food in a diet increase blood glucose levels & the chance of high blood pressure and diabetes in a sample of Rush residents.
Second place, Biological and Ecological - Senior group: Chloe Tap & Dagmara Dobkowska; To investigate whether contrast sensitivity can be improved from regular exposure to action video games and the impact on everyday tasks on a teenager with myopia.
Perrigo Biological and Ecological Educator of Excellence: Ms. Niamh McNally.
In addition stong performances were put in by ;-
Aisling Leneghan and Frances Mulholland; An investigation into the effect of swimmers' sunscreen on Talitrus saltator.
Anna Sowray, Kelsey Wilson & Savannah-Rose McAuley; A statistical analysis of the short term effects of the HPV vaccine.
Kate O'Kelly; To investigate the effects of health and lifestyles games on the behaviour of students.
Kirsty Burns, Enya Anderson & Cleo Gallen; Investigating the behaviour of seagulls in our area.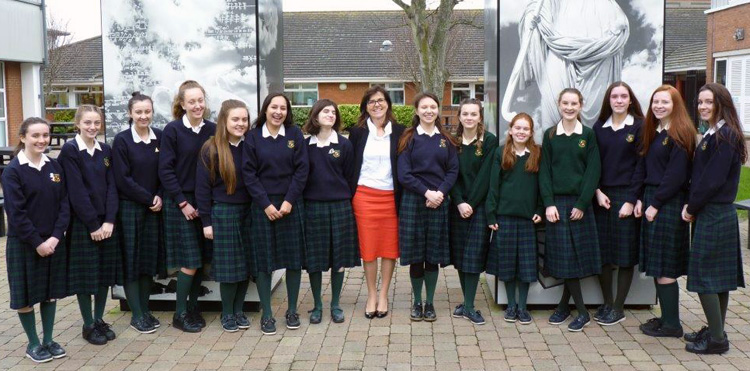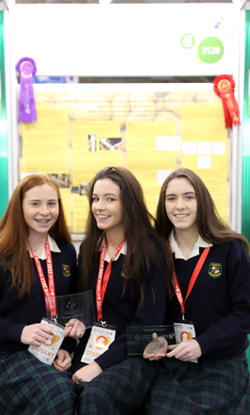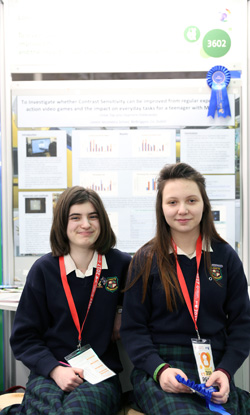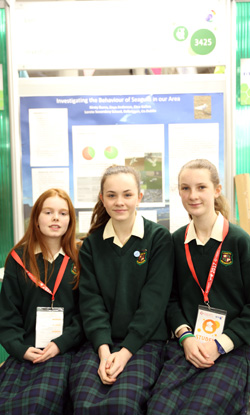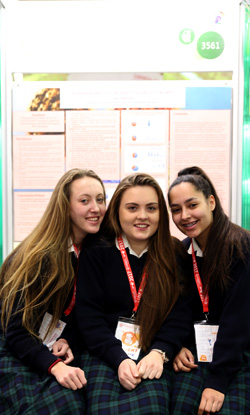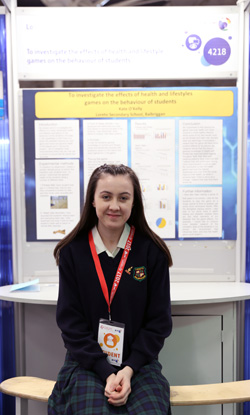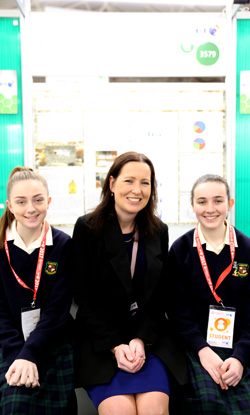 • Junk Kouture is an exciting and prestigious national competition where students use their creativity to turn junk into high fashion. The school is hoping to build on our tradition of great success in the competition with this year's entry of thirty seven wonderful fashion creations. Monday, 16th & Tuesday, 17th January are the nights of this year's school performance. Doors open at 7 p.m., show starts at 7.30 p.m. and tickets are available at the door.
• Hard luck to our Senior Camogie team who lost their East Leinster quarter final after a very tight game against Castleknock Community College. Well done to all the girls on a great achievement to get this far. Best of luck to our Junior Camogie team in their upcoming semi-final against Loreto Crumlin.
• A big congratulations to Emma Fagan, 2E, who represented Loreto Balbriggan in Leinster schools swim gala on Sunday, January 8th. She won the 100 meter back stroke for U.13-14 girls and will go forward to represent the school in the 'Interpro Irish National Swim Gala".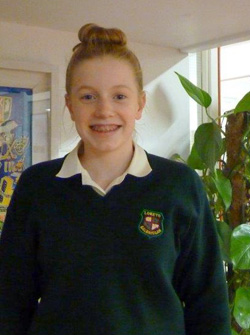 • Please note the change in the school calendar. The school will now be closed on Thursday, March 16th.
Food For Thought
 'Food, glorious food' – it fuels the body and feeds the mind. On Wednesday 18th January 2017, when post-yuletide belts tighten to feel the less glorious effects of Christmas pudding past, Loreto Secondary School Balbriggan will play host to a very special evening that promises to take a more measured and informed approach to young people's nutrition and to the nation's health.
 'Food for Thought' is a gathering of great minds to discuss and demonstrate what healthy eating is and what it should be all about. Professor Donal O'Shea, the country's leading expert on obesity, is the keynote speaker for the evening but joining him is a whole host of other well-known experts in the field. Dr Kevina Cardiff, a dietitian specialising in diabetes, cardiovascular problems and weight management will speak about some of the hard to shake myths surrounding sugar. Cathy Monaghan, Senior Paediatric Dietitian and founder of www.weaning.ie, Dr. Lyndsey McTavish Lynam, specialist in childhood dental care, and Nicola O'Byrne, leading lactation specialist, will also be on the panel to contribute to the lively debate on the night.  
Of course, no discussion about healthy eating could ever be contemplated without the inclusion of some wholesome treats on the evening menu and the talks will be closely followed by a cookery demonstration offering practical ideas and suggestions for parents on family dinners and lunchbox nutrition. Sharon Hearne Smith, a well-known food stylist who has appeared on RTE's' Today Show with Maura and Dáithi' will be in attendance and local and national food suppliers will also have stalls to tempt with culinary delights. 
 All members of the community are welcome to attend this unique event. Tickets are €5 and can be purchased from Loreto Balbriggan Parents' Association or from calling 086 0438321 from the 9th January 2017. As well as a feast of evening entertainment for your new year, 'Food For Thought' will demonstrate that healthy eating is not just for January but for life.  
News update, Dec 22nd, 2016
We wish all associated with Loreto Balbriggan a very merry Christmas and a happy New Year.
Christmas Supervised Study
Supervised Study runs from 2nd to 6th January 2017. The school will open at 9 a.m. and study will begin at 9.15 a.m. until 4 p.m. with a break for lunch.
Cost is €3 per day or part thereof.
We would encourage all 3rd and 6th Years to take the opportunity to avail of a structured study environment.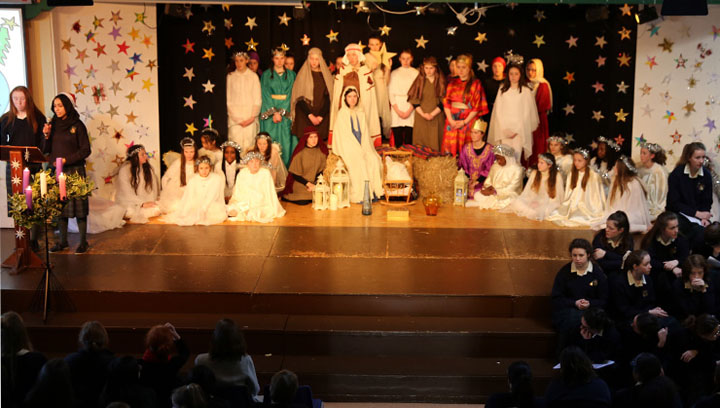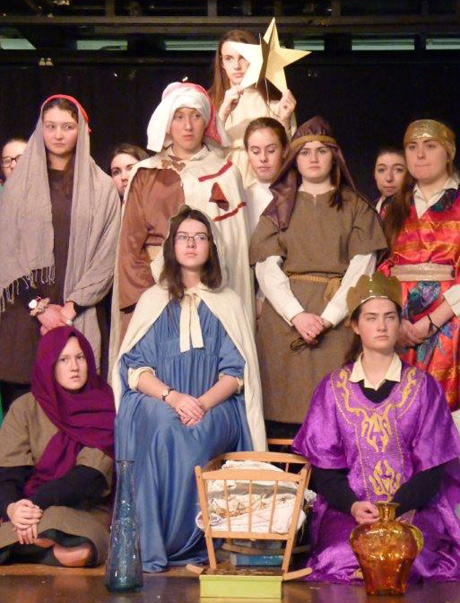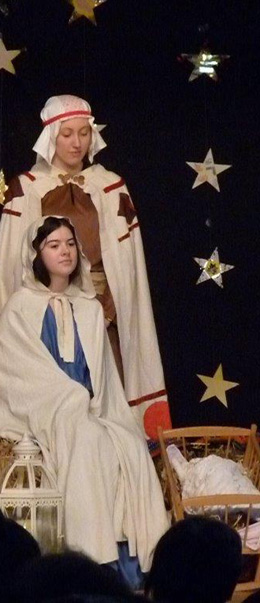 News update, Dec 16th, 2016

• On Thursday 15th December, the TY Justice and Peace group, JPIC, met to reflect on their experience at the Schools for a Just World Event organized by Trocaire and the Dublin Diocese earlier this month. They planned two events of peer to peer teaching enabled by the skills and insights learned at the event. An Experiential Refugee Evacuation Workshop and the Sustainable Development Goals Made Simple are two workshops that they attended and will reproduce for other TY students in January. They also attended workshops on issues as far ranging as Seed Saving in Malawi and Seasonal Flooding in Honduras. The impact of climate change on vulnerable global communities was presented in the workshops by a variety of Trocaire speakers and activists. The girls really enjoyed the event which was attended by ten Dublin Schools. They felt it was a positive practical approach to big issues of Climate and Justice and their aim is to spread the word to their peers throughout the year. The Justice and Peace group are Claudia Andre, Hannah Dalton, Allanah Newman, Maeve Cope, Emer Elsworthy , Pelumi Tuyo , Sinead Oshokoya and Katelyn O Brien
• German workshops by the Goethe Institute. On Tuesday 13th Dec, 2nd and 5th year German students were visited by Katharina Carson in her "Deutschmobil". Katharina is employed by the Goethe Institute to run workshops in second-level schools to promote German language and culture. The Deutschmobil initiative was free-of-charge to our students as it is sponsored by the German Embassy and private German businesses. Students took a 'Reise durch Deutschland' (a tour of Germany), learning German vocabulary and about aspects of German culture. They enjoyed group work, crossword competitions and a hotly-contested quiz. Winners were awarded prizes and all participants left with German badges and wristbands. The workshops proved to be fun and interactive, with students requesting another visit next year. They, in turn, were complimented on their excellent participation and use of their German language skills by Katharina who also commented on the pleasant learning atmosphere in the school. Wir wünschen Ihnen alle Frohe Weihnachten!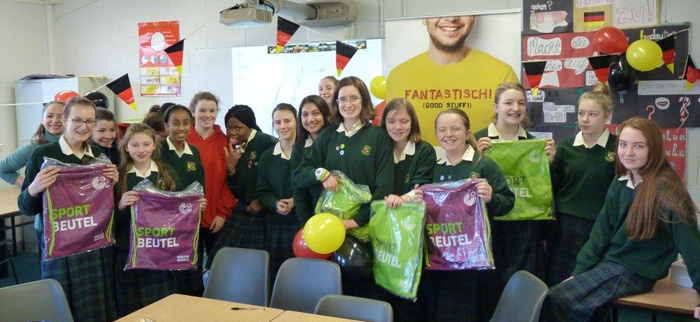 • The Under 16 GAA football team were presented with their new training tops this week courtesy of their generous sponsor, Mr. Noel Heeney of McFadden's Sports and School wear Balbriggan. They christened the tops with a fantastic win against Loreto Foxrock on Tuesday. Congratulations to Jessica Kelly, Fiona Keegan and Erin Healy on their selection for the Dublin Minor Gaelic Football training squad. Congratulations to Megan Benson, Amy Gibbons and Chloe Johnson on their selection for the Dublin Under 16 Gaelic Football training squad. Well done to Hannah Connell (Under 16) and Siofra Murphy (Under 14) who have both been selected for their respective Meath Gaelic Football Panels. Best of luck with the coming season, girls.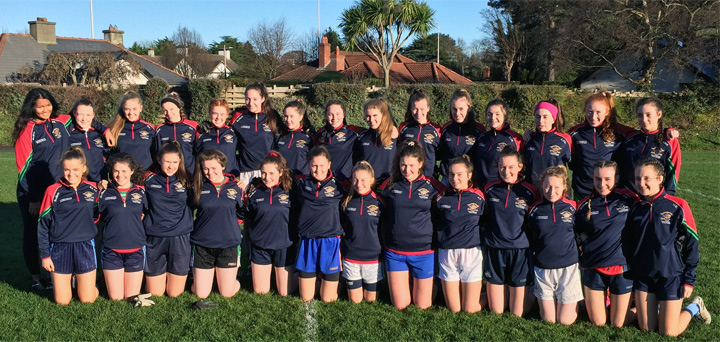 • On the 14th December, St Vincent de Paul partnered with the Student Council for the annual S.V.P. Food Appeal. There was great support for the cause and as a festive twist, students also wore Christmas Jumpers. Huge support was shown on the day, thank you to all who donated.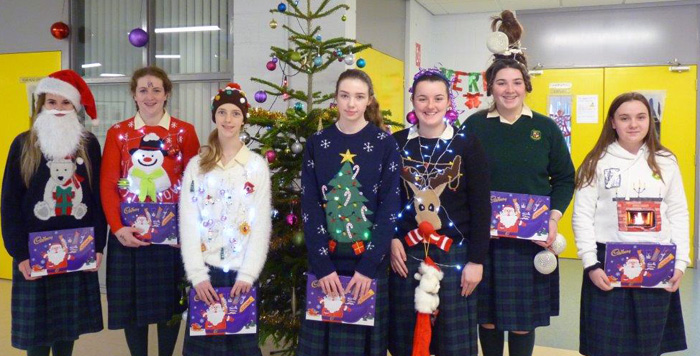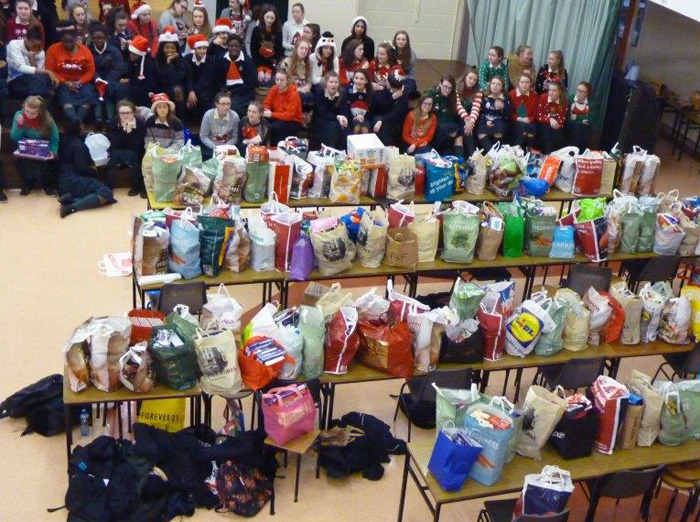 • Well done to the First Years who won the Inter Loreto Spike Ball competition in Portmarnock on Wednesday 14th. They came first among 8 teams competing against five Loreto Schools.
• Ceol Loreto Gig. A wonderful night was enjoyed by all on Thursday at the Christmas Ceol Loreto Gig. The senior & junior choirs, the orchestra and the many acts entertained an enthusiastic audience and got us all into the spirit of Christmas. Thanks to all the music teachers and music captains for their hard work in preparing for this wonderful evening.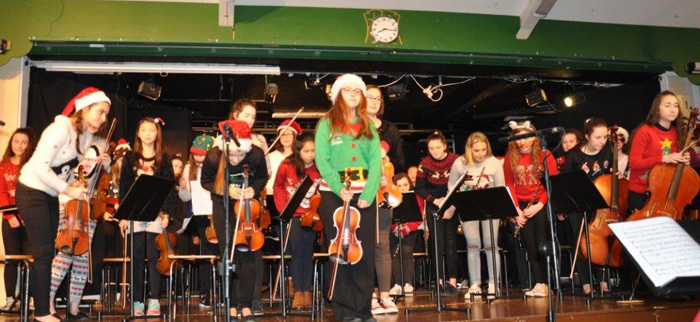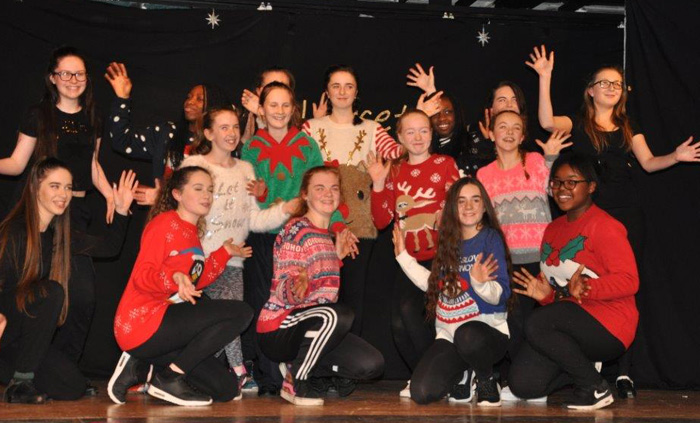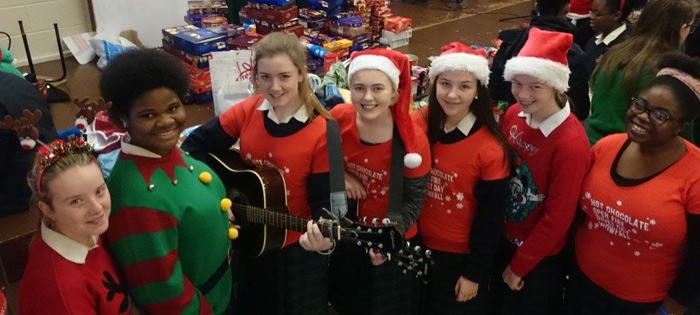 News update, Dec 9th, 2016

• Well done to all TY English students who participated in this year's Shakespeare Festival – an amateur drama initiative based on the celebrated works of William Shakespeare. On Wednesday 7th December last, all seven Form groups within TY performed their unique ten-minute drama productions in front of a packed audience in the school hall. This year's group of TY students proved to be exceptionally gifted in the art of directing, acting, script writing and stage designing and some of the creative, spellbinding adaptations on show included scenes from 'Take Me Out' and 'High School Musical'. Special congratulations to Ms Malone's 4D class who were crowned Overall Winners with a memorable 'Northside V Southside' adaptation of 'Romeo and Juliet'.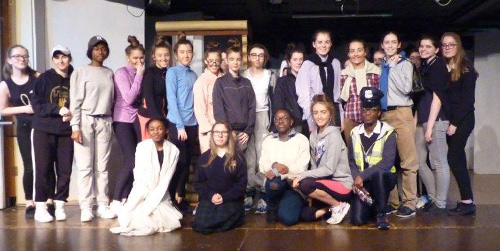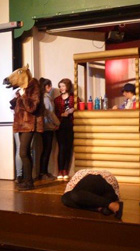 • Well done to our Transition Year students who took part in the Temple St. Hospital/City Jet Santa Flight on Wednesday 8th December. The girls were on hand at check-in to sing lively Christmas songs and provide festive cheer for all the Temple Street children and their families. Much fun was had on the flight as Santa arrived while over the North Pole. The students sang their hearts out for the entire flight and kept spirits bright. City Jet then hosted a party in Dublin Airport and once again the girls were on hand to chat to the families, sing songs and do face painting for the children. It was a magical experience for all involved and the TY students came back to school with some very special memories indeed.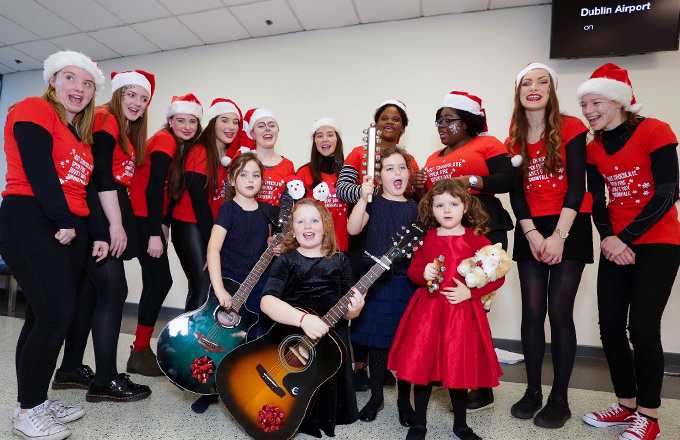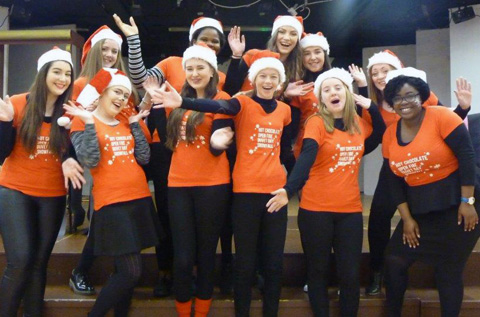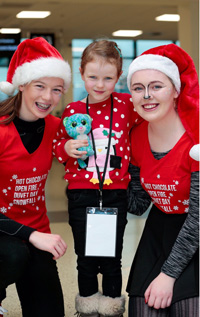 • The Ember Team attended a workshop with the Dublin Diocese on Monday and were fortunate to hear a talk from Fr. Peter McVerry. During the talk the students were informed about the homeless crisis in Dublin and learned about Fr. McVerry's personal faith.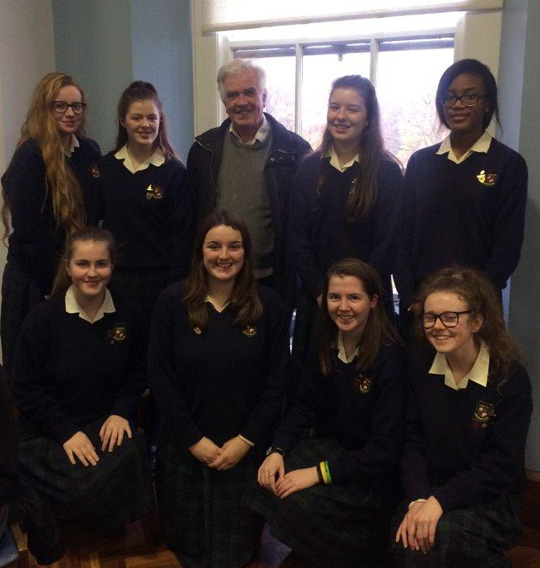 • Congratulations to again to all of the participants in this year's market day. The event was bigger and better than last year with over 40 stalls. While all mini-companies were successful in terms of making profits, there was also formal judging carried out to see which mini-companies will represent the school at the Fingal Enterprise Board Student Competition ;
o In the Junior Category – Poca and Shopaholic
o In the Intermediate Category – A + A Products and Easy Inserts
o In the Senior Category – Sweet Feet and Glitz & Glow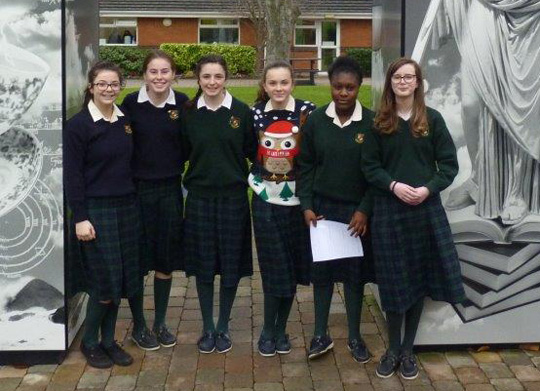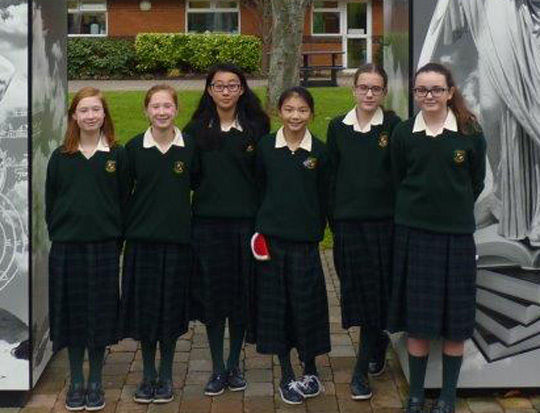 We wish all mini-companies continued success and best of luck to these six entrants at the Fingal finals!!!
• The TY Fundraising Committee have been collecting donations from all students in anticipation of the ICHH Shoebox appeal. The shoeboxes were packed and wrapped today and are now on their way to the City Centre where they will be given to the homeless for Christmas. Some items included in the boxes were gloves, hats, scarves, socks, sweets, crisps, pot noodles, playing cards, body wash, shampoo, moisturiser, make up and Christmas clips and earrings.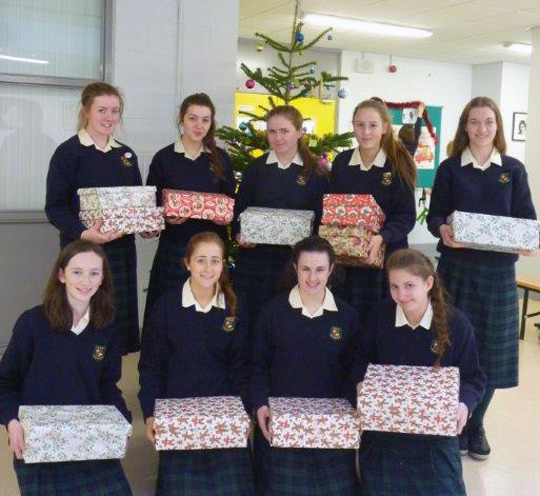 • Congratulations to St. Maurs' on their great success in winning the All Ireland Junior Club Final last weekend.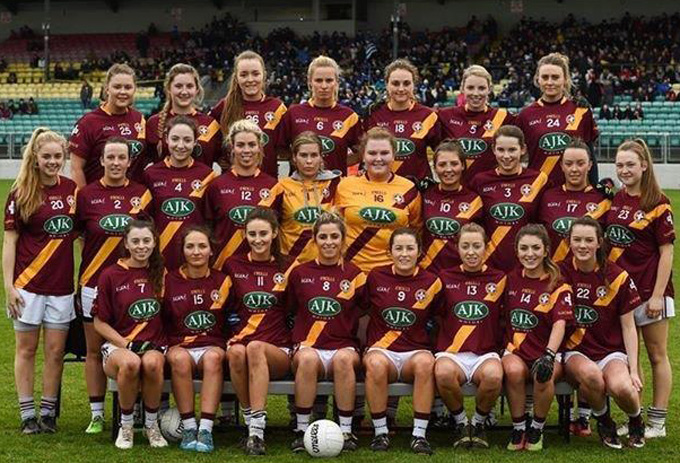 • Two students from Loreto and the St. Colmcille's G.A.A. club are to represent Meath in the All-Ireland 2017 U.14 series. Congratulations to Sioffra Murphy and Ella O'Rourke. They came through two sets of trials from three hundred players to be included in this years' panel of 25 players.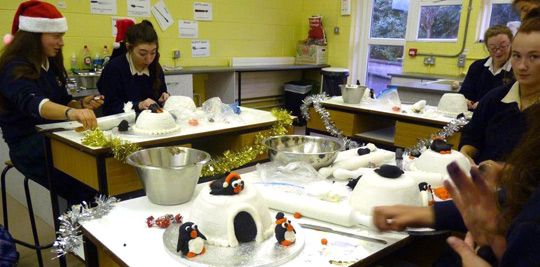 Christmas bake off ....
News update, Dec 2nd, 2016
• Congratulations to Manny Choudry who was successful in the Soroptimist Competition held in the Oak Room, Mansion House recently. Manny's speech on the "Empowerment of Women", beat stiff competition from Notre Dame School, Kings Hospital, Mount Anville and St. Louis High School to name a few. Manny will represent Loreto in the regional finals on 14th January 2017. All of the girls competed to a very high standard and Kimia Esmaeilzadeh was also chosen as a reserve participant. Well done to all competitors on the fine manner with which they represented the school.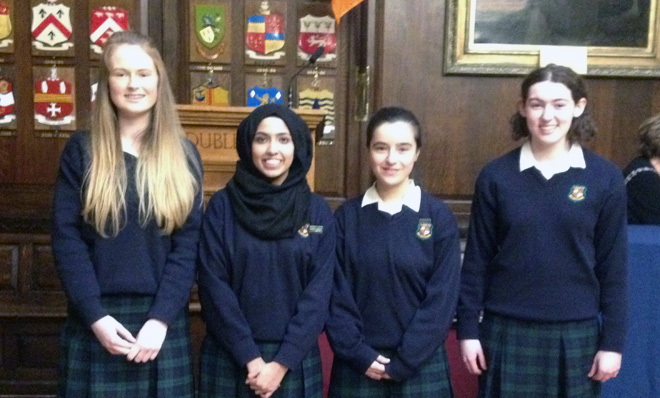 • Best of luck this Saturday to Jessica Kelly, Dara Bogan, Megan Benson, Anna Goodey, Fiona Keegan, Meabh Daly, Aoife McGuinness & Aine McGuinness. The girls are making history for their club St. Maurs' as they take on Kinsale in the All Ireland Junior Club Final. The girls have already been crowned Dublin and Leinster Champions. The St. Maur's Ladies Gaelic has beaten teams from Kildare, Glasgow and Monaghan to book their place in the final. The game this weekend will be a huge encounter and the girls have done amazing to reach this stage of the championship.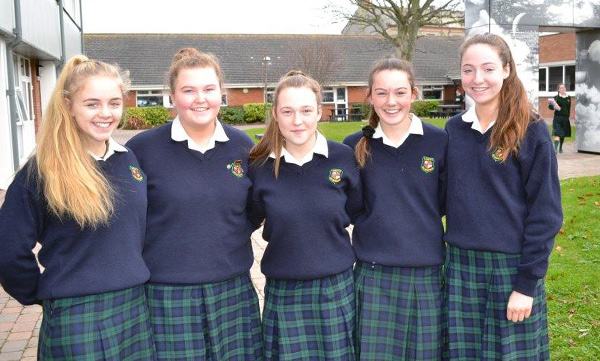 • The Business department of Loreto Secondary School, Balbriggan, held their Annual Market Day on Friday 2nd December. There were over forty mini-companies participating this year with products and stalls of a very high standard. Market day was officially opened by Gillian Brady-Moore of Fuschia Make-up. Ms. Brady-Moore gave a presentation to the budding TY and Junior entrepreneurs and also addressed 5th and 6th Year students.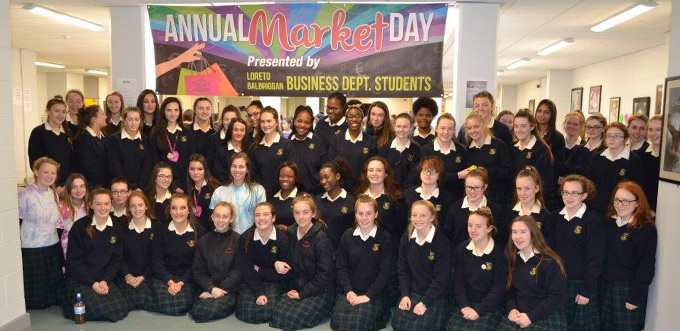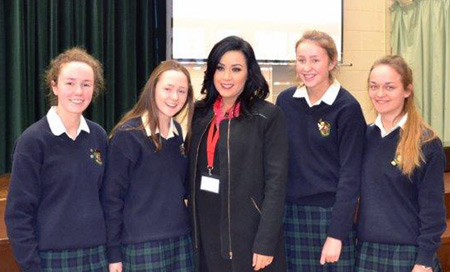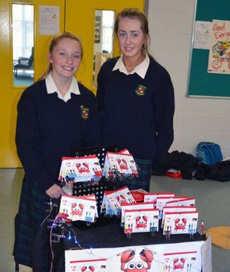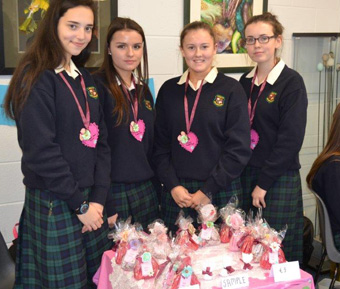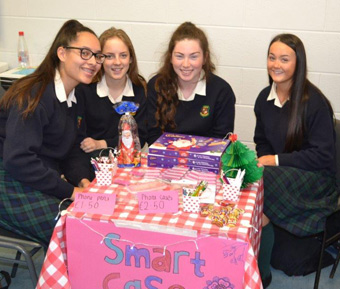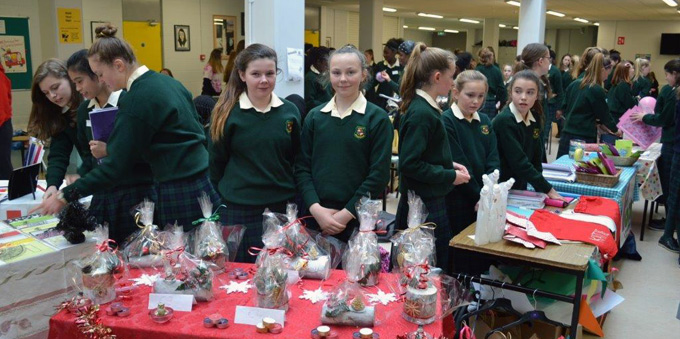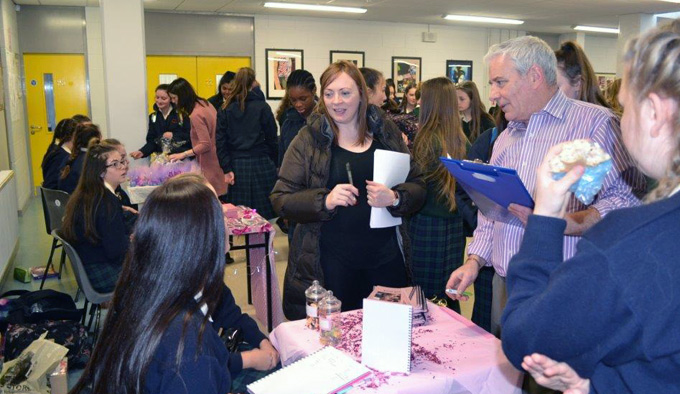 • A Remembrance Evening for all those who have passed away in the Loreto community took place on Wednesday evening, they will also be remembered in the Balbriggan parish church on Saturday at 6.30 p.m.
News update, Nov 25th, 2016
• Its Christmas Exam week and the students are busy studying and preparing. The very best of luck to all.
• Well done to our Irish Debators who put up a fight in round two of the Gael Linn Debating competition; Iman Khan, Kirsty Burns, Cora Sheerin, Erin Campbell and Aine Brady.
• Friday, 25th November was Show Racism the Red Card Day. This national campaign was run in schools and colleges throughout the country. Congratulations to Katie Caffrey (below with Ms. McDonough ) who won the prize for the most creative red card design.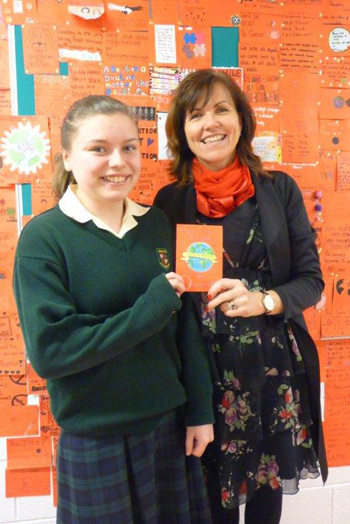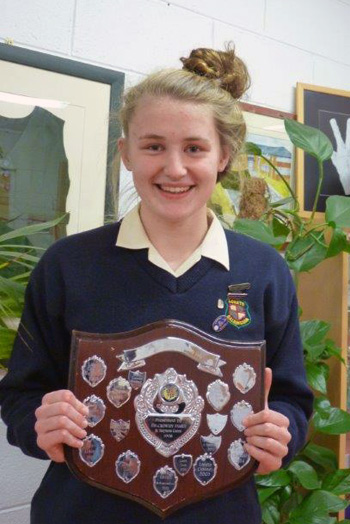 • Congratulations to our students who brought home 6 medals and the winning plaque (above)in the Inter-Loreto swimming regatta in the Aquatic Centre.
• Six scholarships were awarded to past pupils by third level institutions this week. Congratulations to Nell Garvey, Aoife M. Doyle, Cliodhna Redmond, Julie O'Connor, Jennifer Fitzpatrick and Lorna Mooney. Mr. Fynes attended the event in Trinity on Tuesday.
• Mrs Caffrey and Mr Jim Walsh (below), members of Balbriggan Historical Society presented a copy of their latest publication 'Balbriggan - A History in Maps' by Peter Whearity to our library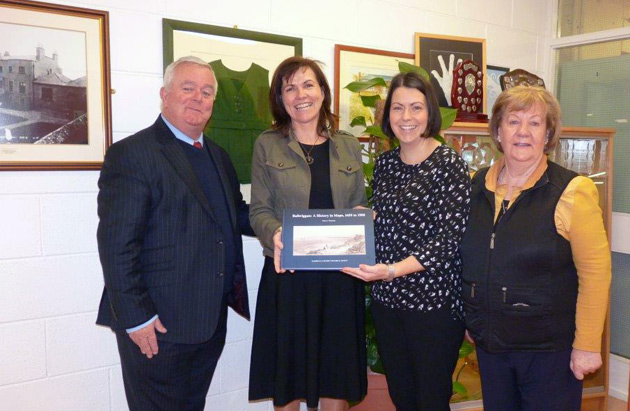 • Well done to Maria Louise Fufezan, Elise Sorg Walsh, Kimia Esmailzadeh, Mahnoor Choudhry and Lisa Minogue who partook in an E.U. translation competition run on Thursday, 24th.
• Congratulations to Ruth Guildea who won first place in the senior category for the PDST Write a Poem 2016 prize giving competition.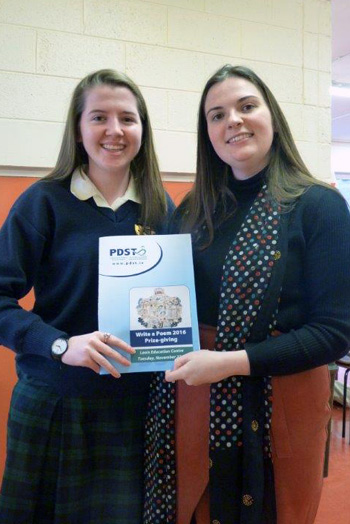 Ruth's Poem - I am a Feminist
News update, Nov 18th, 2016
• Best of luck to the following students who are participating in the prestigious Soroptimist Public Speaking competition in the Oak Room, Mansion House on Saturday, 19th November. Hannah Rudden, Kimia Esmaeilzadeh, Mia Doran & Manny Choudhry. This is a competition that hopes to improve the art of communication. It also encourages girls to develop the skill to speak effectively and more importantly, helps to develop self-confidence and personality.
• Science Week was on this week and the following activities took place. 2 professors from U.C.D. and Royal College of Surgeons gave talks on Biomformatics and Anatomy. There was a number of science shows for first year science classes. The second year classes took part in a Periodic Table Trail Quiz. There was a poster competition for 1st & 4th Year students. Some 3rd Year science students attended a lecture in D.I.T. Students took part in the I.S.T.A. senior science quiz. Well done to the Science Captains - Moyin Adi, Khadija Gull, Tanusree Kallam, Lorna McGuinness, Lauren U. Murphy, Tess O'Neill, Emily Tierney O'Hanlon – for working so hard to make Science Week a resounding success.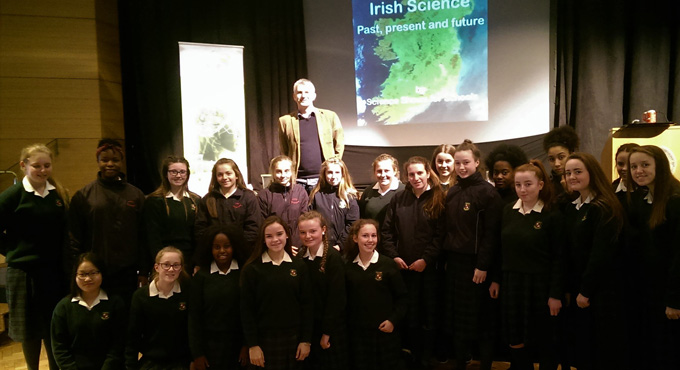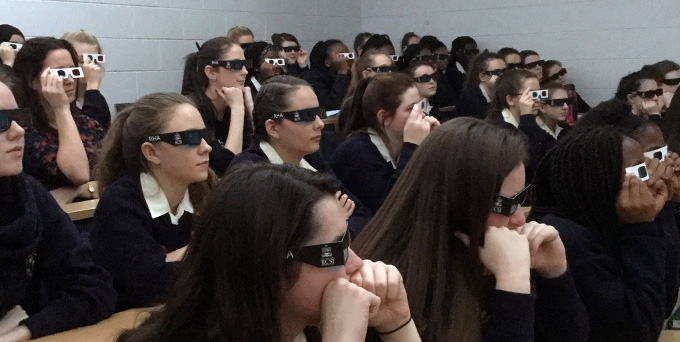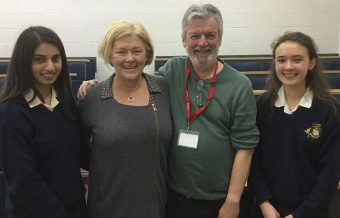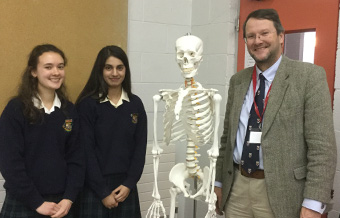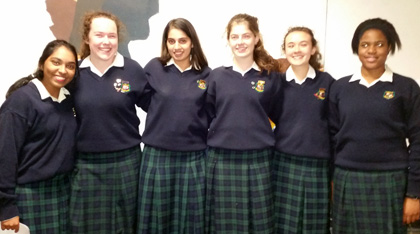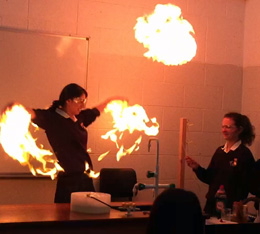 • 4th Year Photography Workshop was held on Monday & Tuesday. 4th Year students enjoyed it immensely and took some great photographs.
• Public Access to Law workshop took place today for all those students who expressed an interest in Law. It was facilitated by the Law Society.
• Well done to all students who took part in Volleyball, Hockey & Basketball matches during the week.
• Christmas Exam week begins next week. Best of luck to everybody.
News update, Nov 12th, 2016
• A fantastic Music Week took place 24-28th October. Music students from every year group took to the corridors, Atrium and Hall giving wonderful performances for the whole school to enjoy. The week culminated with a very special performance of "Some Nights" by the Senior Choir, guest conducted by the very talented maestro Meaghan Dinsmore. Well done to all students involved!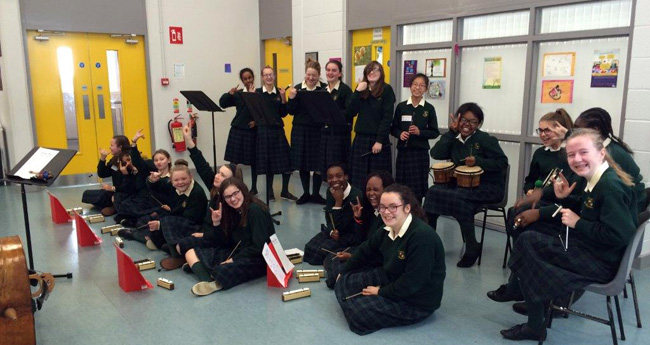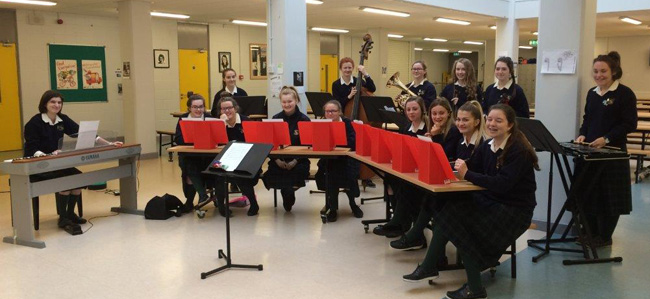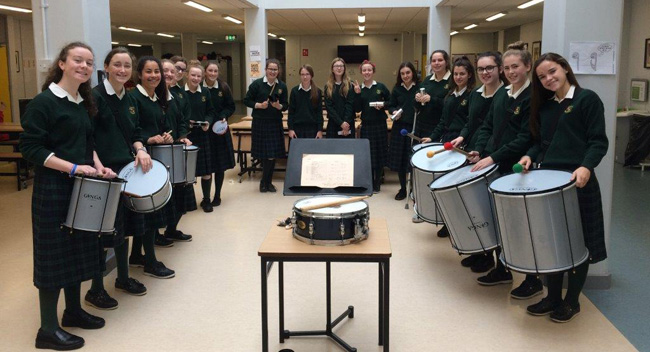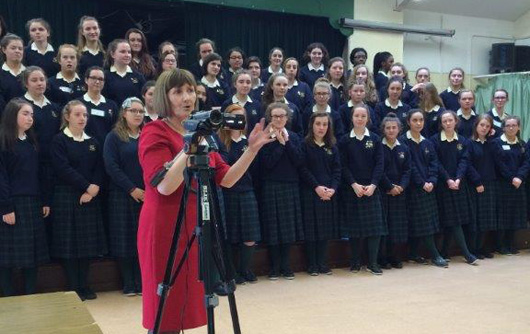 • Congratulations to Kelsey Wilson who, due to her excellent science results in the Junior Cert., was invited to participate in the Science Olympiad in D.C.U. on Saturday, 5th November.
• Congratulations to Chloe Johnston, 3rd Year on making the Leinster U.15 soccer squad. Chloe is in a very select group in the school being only the fourth girl in recent years to have been selected to represent the school from Loreto, Balbriggan. This is a huge achievement for Chloe and her family and we want to wish her the very best of luck in the upcoming interprovincial tournament, where Chloe will play for Leinster against girls from Ulster, Connaught and Munster. The Irish U.15 girls international squad will then be selected from this tournament. That would be an amazing achievement, but for now the very best of luck to Chloe in the blue of Leinster and fingers crossed the green of Ireland. Anyone wishing to support Chloe and Leinster can head up to the AUL pitches by the Airport on the weekend of the 11th -13th November.
• Gaisce – The President's Award Programme has been running in this school since 1988 with the first group of five students receiving their Bronze Award from President Patrick Hillery in Dublin Castle in 1989. To complete the award students undertake activities in four areas, community, personal, physical and venture – all in their own time. Until last year Transition Year students completed the Bronze Award, but this year three 6th Years students completed and received their silver award in a ceremony in The Helix Theatre, D.C.U. on Thursday, October 27th. Hopefully they will go on to undertake the Gold Award during the next few years. The Silver Awardees pictured are Kareen Bohan, Caoimhe Mackey and Ruth Moore. The PAL (Presidents's Award Leader) is Mrs. McCaul.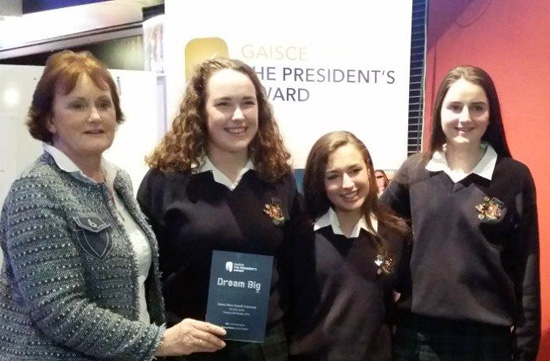 • Continued good wishes to the Maritz family (Lara and Tess in Fourth Year) who are participating in Ireland's Fittest Family – they got through round 1 and will be on again this Sunday.
• This morning the French Theatre for Schools came to our school and performed two plays to second and fourth years. La Porte – Bhonheur to Second Years Le Secret Noir to Fourth years. Students really enjoyed themselves and what made it particularly enjoyable was the audience participation and interaction. Well done to all our actresses. A' la prochaine!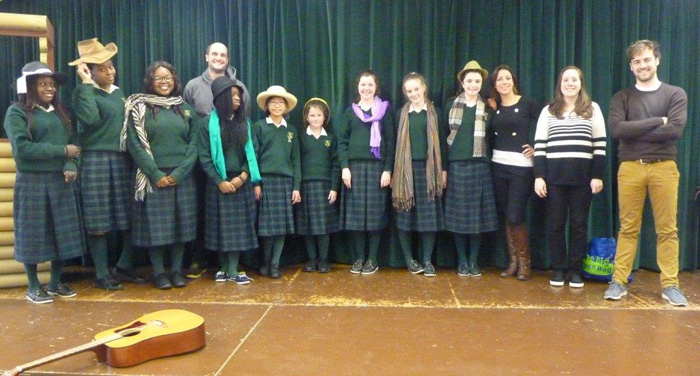 News update, Oct 28th, 2016
• Congratulations to the 2nd Year Irish Debating team who are through to round two of the Gael- Linn Debating competitions. The students involved were Iman Khan, Kirsty Burns, Cara Sheerin, Erinn Campbell and Aoife Brady. Comhgairdeas libh go léir cailíní.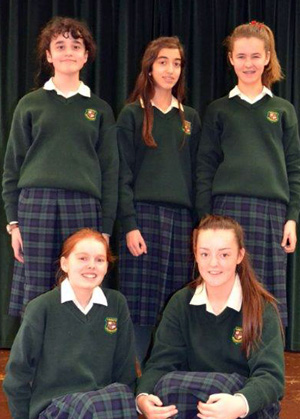 • Best of luck to the Maritz family (Lara and Tess in Fourth Year) who are participating in Ireland's Fittest Family which will be aired on RTE 1 on Sunday, 30th October.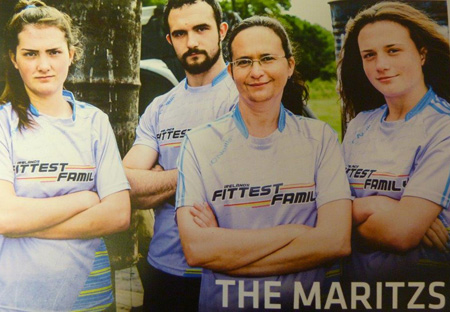 • First Years had an assembly today to mark the end of their first half term. They were all given goodie bags packed with treats to help them relax over the mid-term break.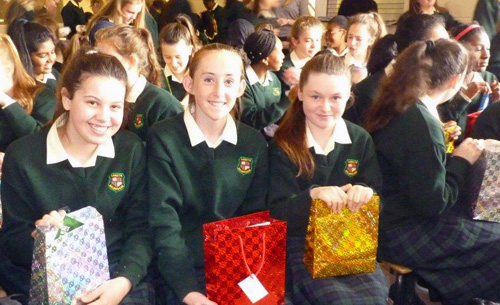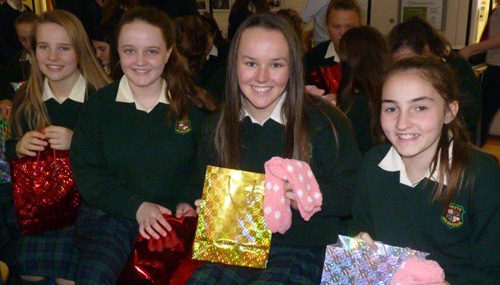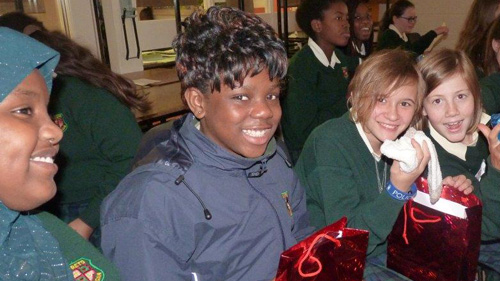 | | |
| --- | --- |
| • Finally, wishing you all a safe and happy Halloween break. | |
News update, Oct 21st, 2016
• 6 Entrants were successful in securing places for their projects in the BT Young Scientists festival. Out of over 2000 applicants only 500 were successful. 5 successful applications from the one school in the Biological field is significant. Well done to
- Chloe Tap & Dagmara Dobkowska who qualified for the Senior Biological section. Their project is to investigate whether "contrast sensitivity can be improved from regular exposure to action video games and the impact on everyday tasks on a teenager with myopia".
- Sophie Weldon, Laura Weldon and Emma Byrne qualified in the Intermediate Biological section. Their project is "Does consuming certain varieties of potatoes as a staple food in a diet, increase blood glucose levels and chance of high blood pressure and diabetes in a sample of Rush residents".
- Anna Sowray, Savannah Rose McAuley and Kelsey Wilson also qualified for the Intermediate section with "An investigation into the short term effects of the HPV vaccine on female secondary school students".
- Aisling Leneghan & Frances Mulholland qualified with "An investigation into the effects of swimmers' sun cream on the behaviour, burrow depth and orientation of Talitrus Saltator".
- Kate O'Kelly qualified for the Intermediate Social Behaviour section with her project "To investigate the effects of health and lifestyle games on the behaviour of students".
- And finally Kirsty Burns, Cleo Gallen & Enya Anderson qualified in the Junior Biological section with their project "Investigating the behaviour of seagulls in our area"
• This week we had an extremely successful Maths week in the school. Many entertaining and interesting activities challenged and engaged the students in equal measure.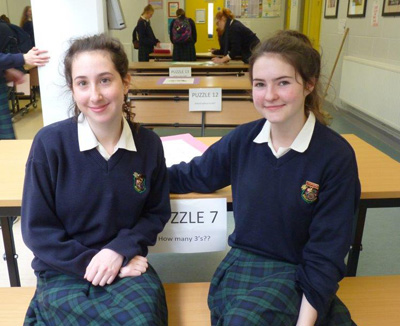 • Extra Curricular activities are up and running now that the year is well under way. The Music Trad group and drama groups are busy practising and students are enjoying it all.

• 1st Years took part in the Cheerios children's breakfast morning and raised over €360 while enjoying a healthy breakfast.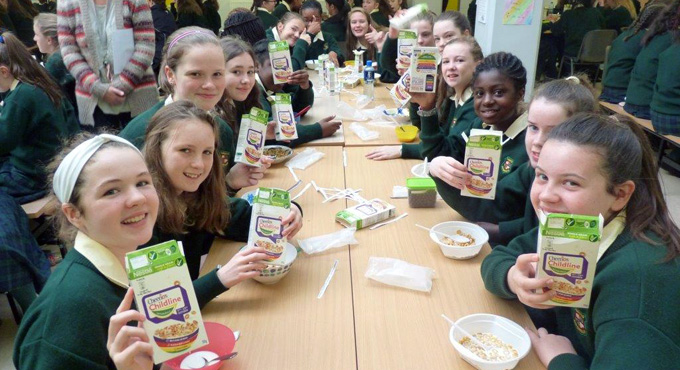 • Well done to the Transition Year students who took part in the Loreto Fun "Learn to Row" day in Islandbridge on Friday, 14th October. The students involved were Alex Tyrell, Nadine Bollard, Emer Elworthy, Abbie Hurley, Roisin Sherry, Katelyn O'Brien, Alice Morgan and Gillian Farrelly. A great day was had by all and we are now on the "Road to Rio" after bringing home the bronze.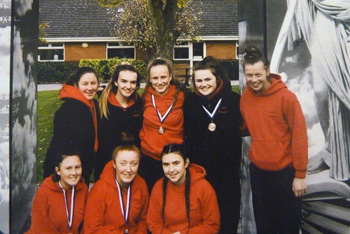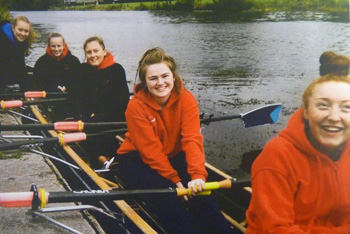 • 1st, 2nd and 4th Years travelled to Fermoy to participate in the All Ireland Loreto Camogie blitz. A great day was had by all.
News update, Oct 14th, 2016
• The 4th Year trip to Kippure was an outstanding success with 4th Year students having a chance to engage in a wide variety of exciting activities including kayaking, orienteering, bushcraft and abseiling. They thoroughly enjoyed their few days in County Wicklow.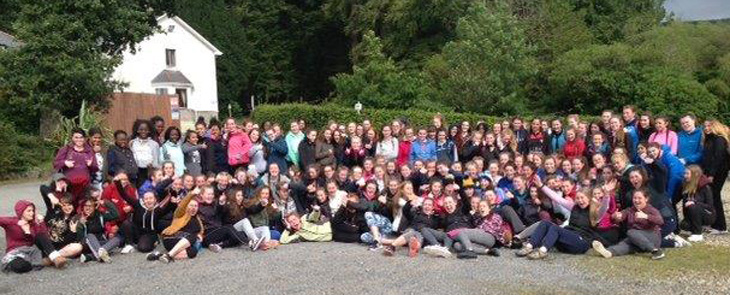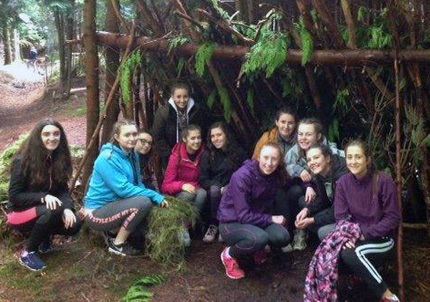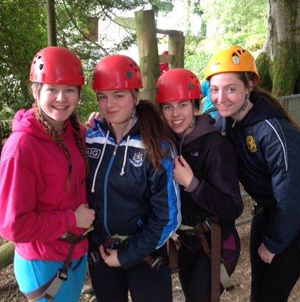 • Well done to all the 5th Years who took part in the run-a-mile event on Wednesday morning. This annual event was blessed with good weather as all the fifth years took to the track. Well done to Eibhlín McCarthy who came first with Erin Healy and Elise Sorg Walsh, second and third.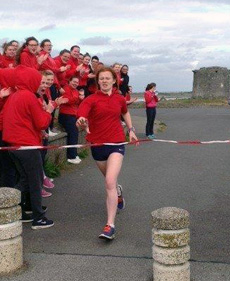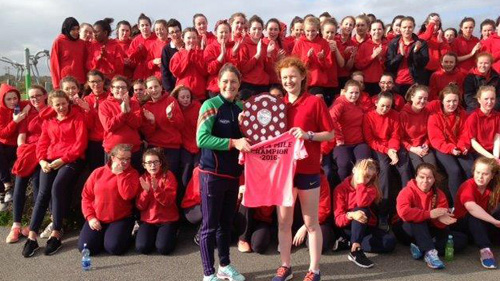 • Face painting queues were out the door on Friday morning for the face painting fundraiser. The initiative was run by 4th Years in an effort to raise funds for the Clown Doctors in Crumlin Hospital.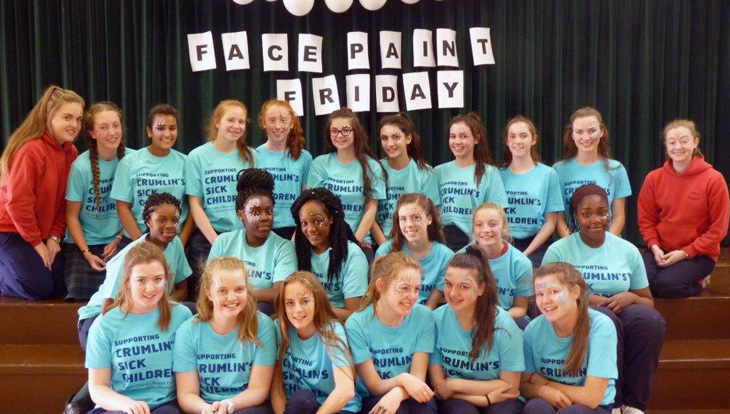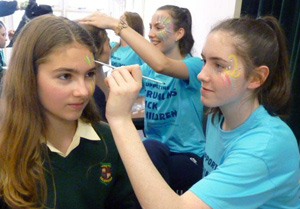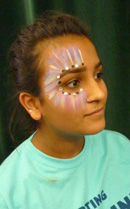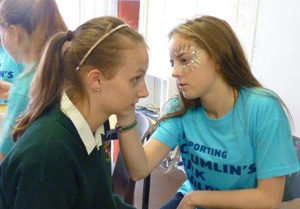 | | |
| --- | --- |
| • Mr. Fynes attended Stephanie Corrigan's scholarship presentation on Wednesday evening. | |
| • Congratulations to Shauna Fletcher who during the summer months took a bronze medal at the World Shotokan Karate-do Federation. She was examined and successfully graded to her 1st black belt. Her nerve racking grading took place under the scrutiny of an international panel of high ranking instructors. WSKF Ireland have commended highly her great ability and commitment. They are extremely proud of her – as are we here in Loreto Balbriggan. | |
• On Thursday October 13th, Maria Louise Fufezan and Diana Bura attended the Zeminar youth summit held in the RDS in Dublin. Zeminar is a social enterprise created to unite all those invested in the development and well-being of young people in Ireland. The event aimed to inspire Generation Z, particularly those aged between 15 and 20. Throughout the event there were workshops, fun activities and influential speakers. Speakers included doctors from various fields, TV presenters, Irish athletes, Irish authors, directors, politicians and entrepreneurs.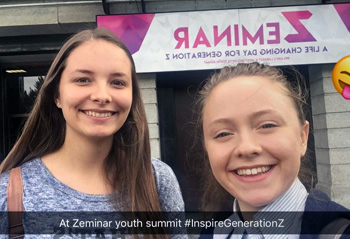 News update, Oct 8th, 2016
• Congratulations to Stephanie Corrigan who received an Excellence Scholarship Award from N.U.I. Galway.
• The Annual Art Exhibition was held on Wednesday, 5th Oct. It was the 20th anniversary of this event which showcases the artistic excellence nurtured in our students.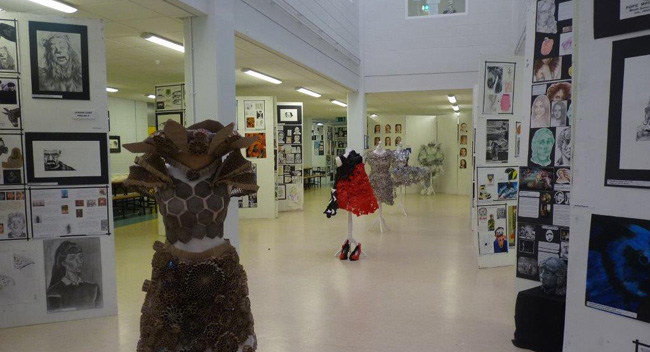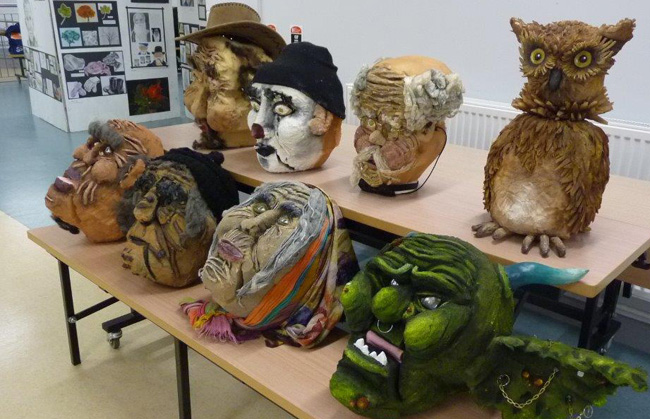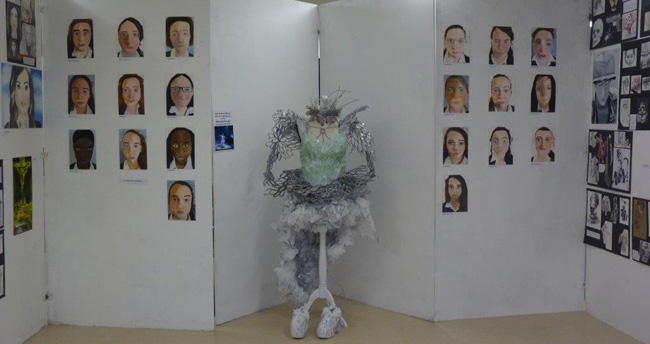 | | |
| --- | --- |
| | • Congratulations to Caoimhinn Ni Dhuinn who has been appointed as First Secretary to the sail training Youth Council. The council run by young people aims to promote the accessibility of sailing for people of all ages or disabilities. It is the first of its kind in Ireland. Caoimhinn's appointment is a significant achievement. |
| • Staff were all on board on Friday in an aim to raise awareness of the fight against Breast Cancer. By wearing pink they drew attention to the need to support breast cancer research and its support services. | |
News update, Sept 30th, 2016
• On Monday Sean O'Rourke did a feature on the Young Scientist winners on his RTE Radio 1 morning show. Marie Louise Fufezan and Diana Bura were interviewed about their recent win in the European Young Scientist Competition and Renuka Chintapalli spoke about her successful research into oesophageal cancer. The item also featured the way in which the ethos of Loreto Balbriggan empowers the students and foster investigative minds. The broadcast can be accessed on RTE 1 podcast

.
• The week ended on a real high note with "Funky Shoe Day". All students were encouraged to wear funky shoes as part of the "walk in my shoes" nationwide campaign. The campaign helps to highlight mental well being issues. Staff and students alike jumped on board with the day and it really was a great end to the week.

News update, Sept 23rd, 2016
• Congratulations once again to our Young Scientists who came 3rd in the European Young Scientists. RTE's Evelyn O'Rourke visited the school on Friday to meet the Young Scientists, Diana, Maria Louise and Renuka and talk about their contribution to "Women in Science". The interview will be aired on RTE Radio 1 on Sean O'Rourke on Monday, 26th September. (Photo below)

  Monday update; Listen here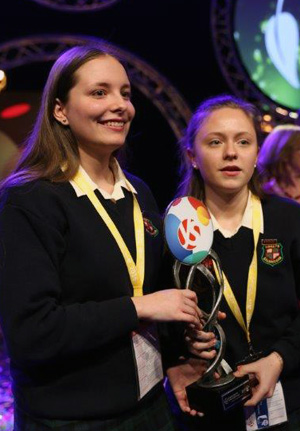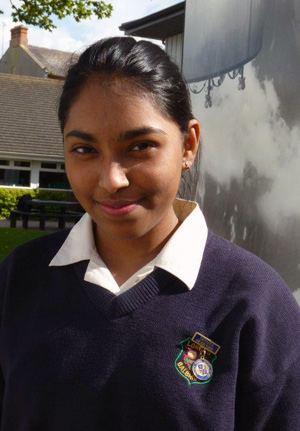 • Renuka Chintapalli (right, above) made the school community very proud when she spoke at the Royal Society of Medicine's medical Conference in London last weekend. This is a remarkable feat for a Sixth Year school student. She was asked to speak in the aftermath of her success in the Google Science Fair – another outstanding achievement for an outstanding student.
• On Saturday, 17th September our 5th Year student, Manny Choudhry spoke on the topic of "Women Empowerment" at Bluefine Street Festival as part of Culture weekend in Dublin. She spoke as a member of the Youth Advisory Panel of Jigsaw North Fingal.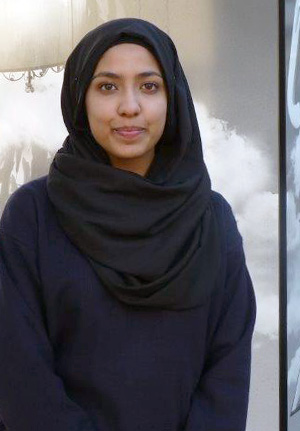 • The Centre for Talented Youth Ireland is running its talent search for second level students, aged 12 -16 years with exceptional academic ability. If you think your daughter would be eligible for this programme, click on the link above.
News update, Sept 16th, 2016
• A big congratulations to all our Junior Certificate students who did so well in their exams. The results were remarkable with Kelsey Wilson receiving 10 A's, 6 other students receiving 9 A's and 1 B. Beyond this there were a plethora of students who got many A's & B's. We are proud of each and every student who achieved their personal best. Well done girls. (Photos below)
• Marie Louise Fufezan and Diana Bura are representing Ireland at the European Young Scientist Camp in Brussels this weekend. We wish them the best of luck and if you would like to follow their progress you can befriend BTYSTE on snapchat.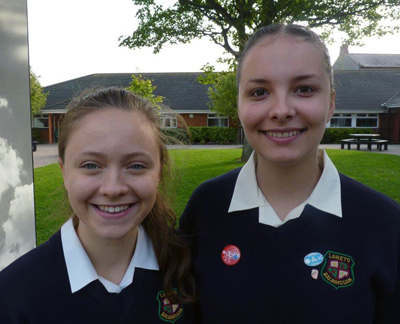 • The school celebrated its Opening Mass in the Parish Church of Thursday afternoon. Many thanks to Fr. Eugene and all the teachers involved.
• The Ember Faith leaders had their first meeting this week. The group work at supporting the whole school community by spreading positivity and promoting school ethos and faith development.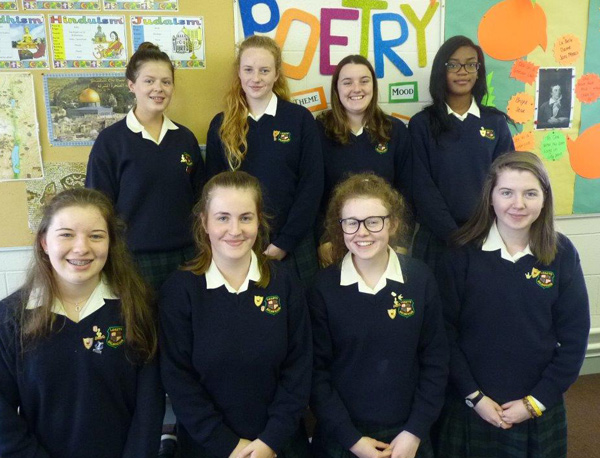 Junior Certificate Results Day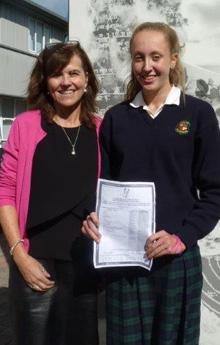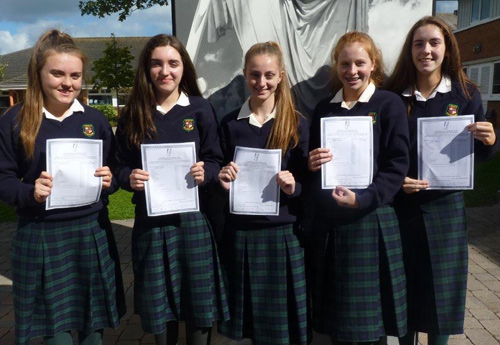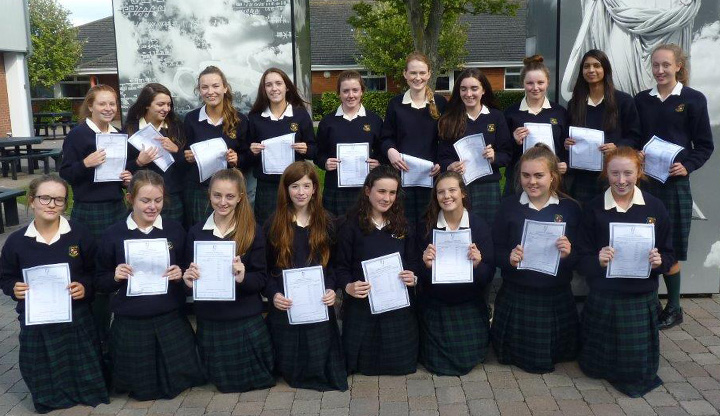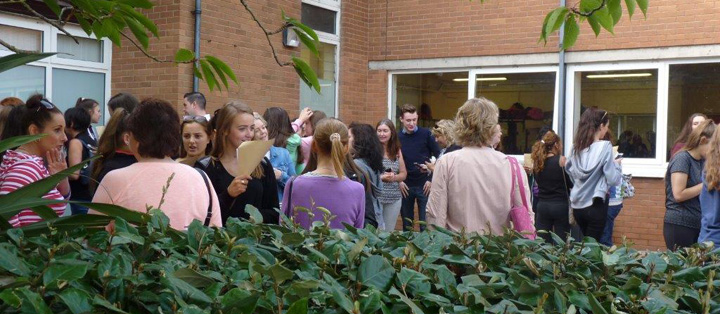 Incoming First Year Information Evenings, Sept 12th.
Our new school Principal, Ms. Ann Marie McDonough, is looking forward to meeting the parents of all prospective first year students, 2017, tonight and tomorrow evening.
News Update, Sept 2nd, 2016
• Our First Year students have had a very busy and exciting first full week. On Friday, they all enjoyed a Sports Taster day. Every student got a chance to try out a wide range of sports from Basketball to tennis to Camogie and Hockey. A great day was had by all.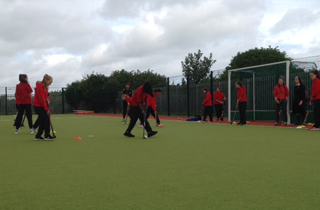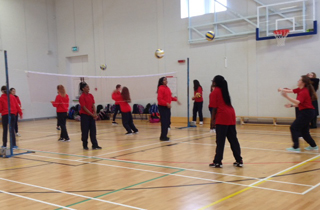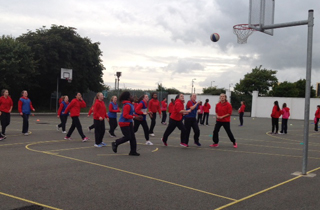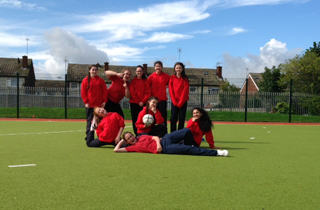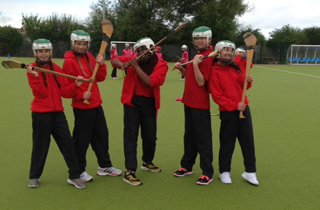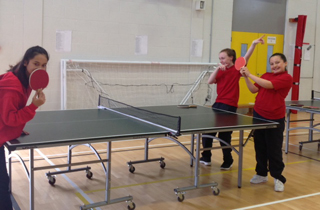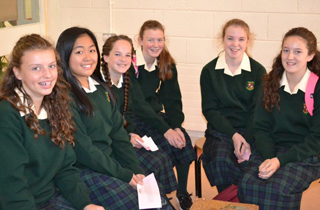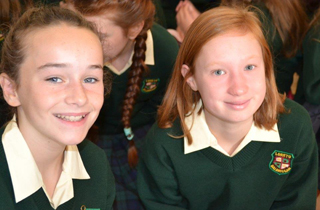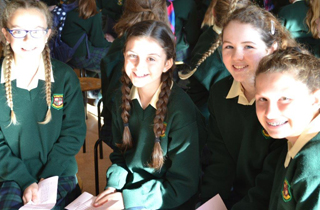 • Congratulations to Lauren O'Keeffe, 6G All Ireland Champion who holds the National record for U.18 girls Hammer – 57 metres. She came 2nd in the German Nationals reaching 54 metres.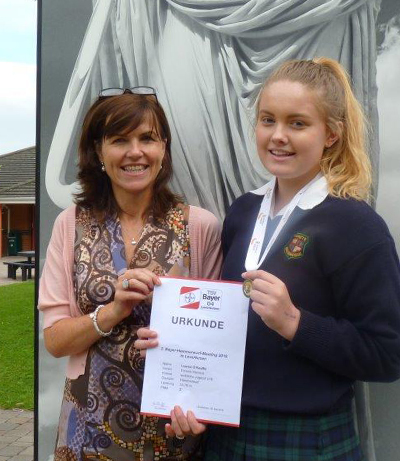 • Well done to our First Year Captains and Senior Prefects on their great initiative in welcoming the first years with a note and a little treat.
• Thanks to last year's Senior Prefects, now Captains and Co-Ordinators, who had a fruitful and productive afternoon advising the current Senior Prefect cohort.
Evening Study
Evening study is available for all students during the school year. Regular study takes place for an hour and a half, running from 4.15 – 5.45 pm each day, except Wednesday which runs from 3.30 – 5.00 pm.
Students in 3rd, 5th or 6th year have the option of late study which runs for two and a half hours every day except Wednesday. Late study runs from 4.15 – 6.45 pm four days a week.
For further details, including prices, click here, or alternatively please contact the school to speak with the Evening Study Coordinator.
News Update, Aug 26th, 2016
• Congratulations to last year Sixth Year students who did exceptionally well in their Leaving Certificate. Well done to the 27% who achieved over 500 points and the three students who reached over 600 points. A fantastic achievement for the girls and we are all very proud.
• A big welcome to all the First Year students who started on Wednesday morning. They have had a busy two days on the orientation programme.
• In the Northern Ireland Young Scientist competition Khadija Gull & Emily Tierney O'Hanlon won the Senior Category & the First Derivative Special Award. Laura Cody and Tess O'Neill were runners up in the Senior Category. Kate O'Driscoll, Jessica Conway McLaughlin and Aoife Kenny won the Junior Young Scientists Category and finally Khadija Gull was part of the winning team in the Science Bootcamp.
• Shelley Johnson, Sadbh Quinn Hegarty, Ella Cooper, Aoife Kenny, Kate O'Driscoll and Jessica Conway McLaughlin won the top prize in Mathematics for their project in Sci Fest. Well done girls.
• During the summer Renuka Chintaplalli qualified as a regional finalist and therefore placed in the top 100 in the Google Science Fair. This is a global science fair and Renuka was the only Irish regional finalist. This is a remarkable and well deserved achievement and reflects the years of hard work that Renuka has undertaken on her project entitled 'Developing a predictive tool for identifying FLNc-associated biomarkers of oesophageal cancer metastasis' . As a result of all her success Renuka has been invited to speak at the Royal Society of Medicine conference in London this September. Renuka also won the overall prize in the Northern Ireland Young Scientist. Well done Renuka.

• Welcome back to Maria Louise Fufezan on her return from a scholarship trip to Germany which she enjoyed immensely. Maria Louise was one of only 5 students nationwide who were awarded the trip as a result of their excellent performance in German in the Junior Certificate.
News Update, Aug 18th, 2016
Congratulations to all our students on receiving their Leaving Certificate results. Some pics below